The Best Financial Advice for Seniors in the Wake of Loss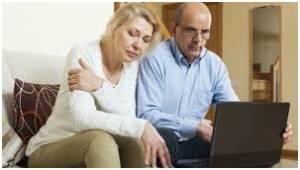 When your spouse passes away, your entire world is in upheaval. Trying to sort out financial details during such a challenging time can feel completely overwhelming. Read on for some practical advice for navigating this difficult journey.
Organize Resources
When things seem to be spinning out of control, one way to feel more steady is to take stock of your resources. For instance, you likely have joint accounts shared with your spouse, such as bank accounts. Nolo.com explains that one of the benefits of joint accounts is you share ownership equally. That means you don't need to be hasty in changing anything, such as removing your spouse's name from the account. If your spouse had an account solely in his or her name, you might still be the beneficiary if your spouse named you as such, or, if your state recognizes spouses as automatic inheritors, you will likely receive rights to those assets. 
In addition to bank accounts, check your spouse's retirement accounts to find out where you stand. There are sometimes tricky rules that apply, and distributions can affect your income level, in turn changing other things like taxes and Medicare payments. You might want to discuss your situation with an elder law attorney; use this handy tool to find one near you. 
Examine Insurance Policies
One of the most important resources for seniors is medical insurance. As we age, healthcare costs tend to rise. In fact, Money.com notes that seniors spend substantially more on health care than younger people, with a higher portion of annual income going toward medical expenses every year of life. It's important to note that while Medicare covers important care, such as hospital stays and outpatient treatment, many health-related costs fall outside coverage. Thankfully, plans like Medicare Advantage cover everything Medicare covers, plus several things it doesn't, including dental care, vision checks, prescription drugs, and hearing exams; click here to find out what options are available to you. 
Life insurance policies are another important resource. You can claim your benefit by following simple steps, such as sending copies of the death certificate to each insurance provider. Make sure you check with your spouse's former employers for policy information, as well as other organizations that might be applicable, such as the Department of Veterans Affairs. 
Wait Before Major Changes
Losing someone you love is a highly emotional time, and you might be tempted to move closer to family members or to escape memories. However, Legacy.com recommends giving yourself time before moving. Consider all the aspects and ramifications of making the change. For instance, if your primary support network is close at hand, you could be forfeiting contact with valuable friendships. People you interact with on a routine basis are often the ones who advocate for your well-being. On the other hand, if you are at a high risk of needing long-term care, you might consider transitioning to a state where long-term care costs are especially low. 
If you own your home, it's important to know how much equity you have, as that can also weigh into your decision-making. If you live in a location where property values have increased, or if you simply paid your mortgage down — or paid it off — you could sell your home and downsize to a less expensive property. This would help free up whatever surplus there is from the sale for other expenses. Another idea is to think about a reverse mortgage, which, under the right circumstances, can benefit many older adults. Whatever direction you're considering, make sure you evaluate your choices carefully before proceeding.
Losing a spouse changes everything, and finding your financial footing can be challenging during such a tumultuous time. Gather your resources, explore your options, and don't make decisions impulsively. Careful planning is the key to securing your future.