Who's Bright Health Arizona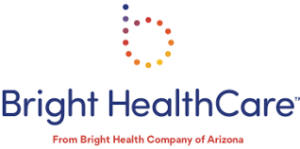 Bright Health Announces Arizona Product Expansion with Addition of Individual Health Plans in Maricopa and Pima Counties in 2019
– Bright Health will expand its exclusive partnership with Arizona Care Network in Maricopa County.
– Bright Health will also bring its unique Care Partner Health Plan model to Pima County for the first time, in an exclusive partnership with Carondelet Health Network.
Bright Health announced plans to expand upon its Medicare Advantage product offerings with the addition of individual health plans in both Maricopa and Pima counties. Bright Health filed paperwork with the federal government to begin offering 2019 Individual and Family Plans in Arizona during this fall's annual open enrollment period.
In Maricopa County, Bright Health will offer individual plans through its Care Partner collaboration with Arizona Care Network (ACN), providing members access to Abrazo Community Health Network, Dignity Health, Maricopa Medical Center, and Phoenix Children's Care Network. In Pima County, Bright Health is collaborating with physician-founded and led Carondelet Health Network in an exclusive partnership that gives members access to St. Joseph's, Holy Cross, and St. Mary's renowned care.
Bright health care Arizona
" Bright Health is committed to expanding access to the growing number of people in need of individual health plans and quality health care– both in Arizona and across the country," said Bob Sheehy, Bright Health's co-founder and chief executive officer. "Both Arizona Care Network and Carondelet Health Network have proven track records of providing superior, personalized care to millions of patients each year, and we are thrilled to partner with them to meet the healthcare needs of hardworking Arizonans."
Arizona Care Network is a network of more than 5,000 providers working together to improve health care and reduce costs by actively managing care for their patients. N Compass Care Coordination gives patients access to a customized support team of nurses, social workers, behavioral health coaches, and navigators who support the primary care provider's care plan with resources, education and support patients need to achieve their health goals. This value-based model has generated medical cost savings across the full spectrum of arrangements, including Medicare, Medicaid, and a variety of commercial products.
Carondelet provides quality healthcare across its three hospitals– Carondelet St. Mary's Hospital and Carondelet St. Joseph's Hospital in Tucson, and Carondelet Holy Cross Hospital in Nogales, the Carondelet Medical Group, three ambulatory surgery centers, and its new micro-hospital under construction in Marana.
" Over the past decade, we have been witnessing an evolving healthcare delivery landscape, marked by the consolidation of small, independent providers into large, comprehensive health systems," said Sheehy. "Our Care Partner Health Plans are built to highlight the strengths of leading health systems like ACN and Carondelet, with integrated care across specialties and predictable out-of-pocket spending. This Care Partner Health Plan model eliminates the friction that has existed between providers and insurers in the past, allowing Arizonans to focus on what really matters– their health."
Bright Health has filed with the Arizona Department of Insurance to expand its offerings in Individual and Family Plans. Starting with the 2019 plan year, they intend to offer individual health plans to Arizona residents in Maricopa and Pima counties via their website, BrightHealthplan.com, call center, broker partners, and the HealthCare.gov website.
About Bright Health Arizona
Bright Health provides affordable health insurance for everyday individuals. Through its exclusive Care Partner Health Plans in local communities, Bright Health is reshaping how people and providers achieve better health together by making health care simpler, more affordable, and personal. Bright Health currently offers a range of individual, family, and Medicare Advantage plans in Arizona, Colorado, and Alabama via its website, call center, broker partners, and government websites as well as public health insurance exchanges. Bright Health co-founders include Bob Sheehy, former CEO of UnitedHealthcare; Kyle Rolfing, co-founder and former CEO of Definity Health and RedBrick Health; and Tom Valdivia, MD, MS, former chief health consumer officer of Definity Health. Learn more at BrightHealthPlan.com.
About Arizona Care Network
Arizona Care Network is a physician-led and governed accountable care organization, with more than 5,000 clinicians providing a broad range of clinical and care coordination services for adult and pediatric patients in Maricopa and Pinal counties. ACN is a partnership between Dignity Health and Abrazo Community Health Network, and also includes Phoenix Children's Hospital, one of the largest children's hospitals in the nation, and Maricopa Medical Center, part of Maricopa Integrated Health System. The network is comprised of primary care and specialty physicians, along with skilled nursing and home health agencies, imaging centers, retail clinics, urgent care and emergency centers, two children's hospitals, and 14 acute care and specialty hospitals. For more information, visit www.azcarenetwork.org.
Carondelet Health Network is comprised of Carondelet St. Mary's Hospital, Carondelet St. Joseph's Hospital, Carondelet Holy Cross Hospital, Carondelet Neurological Institute, Carondelet Heart and Vascular Institute, as well as medical and specialty group locations and imaging centers throughout Tucson, Green Valley, and Nogales. For more information visit www.carondelet.org.
SOURCE Bright Health
Related Links
bright health care Arizona