The Hartford Insurance Agent Arizona            click here for  Online Auto Quote( Free Online quote No B/S Calls Or spam email)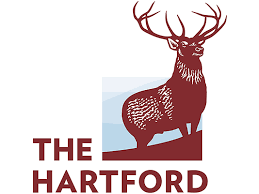 THE HARTFORD With more than 200 years of expertise, The Hartford (NYSE: HIG) is a leader in property and casualty insurance, group benefits, and mutual funds. The Hartford sells its products primarily through a network of independent agents and brokers, and for more than 30 years has been the only nationally endorsed direct auto and home insurance program The Hartford helps its customers prepare for the unexpected, protect what's most important to them and prevail when the unforeseen happens
FUN FACTS • The Hartford serves more than one million small businesses. • The Hartford is a founding partner of the U.S. Paralympics. • Babe Ruth purchased a policy from The Hartford in 1920 for protection against disability.
• The Hartford's trademark logo echoes the majestic stag depicted in Sir Edwin Landseer's 1851 painting Monarch of the Glen. A hart fording a stream is a natural symbol for a company named The Hartford. • The Hartford provided insurance for the only home Abraham Lincoln ever owned.
THE HARTFORD'S BUSINESSES
The Hartford  Business Insurance • Workers' compensation • Property • General liability • Professional liability • Auto Per Auto • Home • Renters personal Lines • • Umbrella
Employee Benefits • Group disability, life, and AD&D • Absence management • Voluntary benefits, including critical illness and accident • Group retiree health
Mutual Funds • Equity, fixed income, and asset allocation mutual funds sub-advised by Wellington Management and Schroeder's • Broad range of exchange-traded funds: both strategic beta and active ETFs
Home Insurance Applications
Auto Insurance Program
Business insurance helps protect your company, employees and leadership from unexpected losses, General liability insurance • Get a free online quote for business insurance today and start protecting your livelihood Commercial Property insurance • Business owners policy • Commercial auto we can help you customize your commercial insurance quotes with exactly what you need, when you need it
The Hartford
P.O. Box 14215
Lexington, KY 40512
Claims
Home Claims
1-877-805-9918
Customer Service (Policyholders).
Customer Service Center–.
Use to make a payment, enroll in AutoPay, download your policy documents, or track a claim.
Visit Service Center.
The Hartford  Home insurance
1-800-423-0567.
M-F: 7 a.m. to 11 p.m. ET.
Sat-Sun: 8 a.m. to 6 p.m. ET.
Automated Billing: 24/7.
The Hartford Flood Insurance.
1-800-296-7542.
M-F: 8 a.m. to 6:30 p.m. ET.
General Correspondence.
The Hartford Insurance Program.
The Hartford.
P.O. Box 14219.
Lexington, KY 40512.
Fax: 1-877-293-2072.
Note: Documents faxed from customers/insureds must include their printed name, state, zip code, and policy number on the fax.
Spanish/ Español.
1-877-621-4981.
Lu-Vi: 8 a.m. to 10 p.m. ET.
Hearing Impaired Services.
1-800-877-8973.
M-F: 8 a.m.-6 p.m. ET.