cheap Supplemental Insurance plans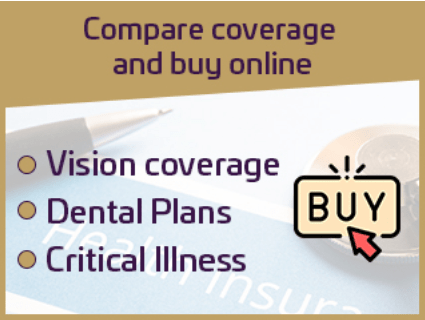 Be ready to handle what comes your way
Life's full of unexpected moments. Planning ahead with supplemental insurance plans can help you feel more ready to handle the medical costs and out-of-pocket expenses that often accompany these unexpected events.
Choose from a wide variety of plans, coverage, deductibles, and benefits so you have coverage to fit your health needs and your financial situation
When you experience a major health event, supplemental insurance policies help pay for many expenses that aren't covered by your primary health insurance.
Hospital and Doctor Insurance
Hospitalization Insurance
A hospital and doctor fixed indemnity insurance plan pays you a set benefit amount when you receive a specific medical service covered in the plan. It's that simple
Hospitalization insurance, also sometimes called Hospital Insurance or Hospital Indemnity, can help you prepare your budget for unexpected medical costs resulting from a hospital stay. Independent agents quote multiple companies to find you the best hospital insurance. Health insurance plan providing coverage for hospital confinement due to illness, accidents, intensive care of convalescence
Vision Insurance
Vision Insurance is designed to help you cover and budget for ongoing vision care expenses like routine eye exams, prescription glasses, and contact lenses. Routine eye exams are a preventive measure for keeping your overall health and wellness. Your doctor can look for vision problems and signs of serious medical conditions such as glaucoma, cataracts, diabetes, and even cancer.
Accident insurance is designed to help cover deductible gaps and daily living expenses provide cash benefits for injuries resulting from an accident. Find affordable accident insurance plans and apply for coverage online, compare multiple insurance companies and save
Critical Illness Insurance. Critical illness insurance can pay for costs not covered by traditional insurance. The money can also be used for non-medical costs related to the illness, including transportation, childcare, etc. Typically, the insured will receive a lump sum to cover those costs. Find affordable critical illness insurance. Get quotes on critical illness plans and apply and buy coverage online
Cancer Insurance
Get a cancer supplemental health insurance plan to cover what your regular health insurance may not compare quote online and buy from top-rated insurance companies in Arizona. help you and your family better cope financially– and emotionally– if a positive diagnosis of cancer ever occurs. … You can choose treatment-based benefits that pay overtime or lump-sum benefits paid upon initial diagnosis. Cancer insurance can fill in the gaps in health plans.
Disability Insurance
Disability Insurance is often called DI or disability income insurance, or income protection. a type of insurance that will provide income in the event a worker is unable to perform their work due to disability. There are two types of disability policies: Short-Term Disability (STD) and Long-Term. Protect your income and financial security with disability insurance compare plans from multiple insurance carriers and buy the policy online
Short-Term health insurance
Short-Term health insurance, sometimes called Term health insurance or Temporary health insurance, is designed to help bridge gaps in your health care coverage during times of transition. between jobs or in a situation where there's a temporary gap in your health insurance, one of our short-term plans could be right for you
Telemedicine
Telemedicine is the use of telecommunication and information technology to provide clinical health care from a distance. Telemedicine (also referred to as "telehealth" or "e-health") allows health care professionals to evaluate, diagnose and treat patients in remote locations using telecommunications technology. Telemedicine allows patients in remote locations to access medical expertise quickly, efficiently, and without travel. Telemedicine provides more efficient use of limited expert resources who can "see" patients in multiple locations wherever they are needed without leaving their facility
Global Travel Insurance
Whether you're traveling for leisure or business. Instant quotes for travel insurance compare plans from multiple carriers that are just right for you. We provide travel insurances for, single trip, multi-trip, group travel, students, visitors to the USA, Schengen Visa, and more
Student Health Insurance
Student health plans can be a valuable solution for college students and their families. Not only can they cost less than other plans– Compare student health insurance plans and find affordable medical insurance coverage for college students. … Comprehensive benefits, including added services not always found with other plans
Cheap Supplemental insurance companies
Supplemental health insurance is used to fill any coverage holes left by a health insurance plan. There are several different types of supplemental insurance plans, many of which are targeted at specific health issues. It can be bought directly from a supplemental insurance company or through an independent agent who can compare multiple plans from Top-rated insurance companies like United Health care, Aetna, Cigna, AllyHealth, Ameritas, Dental Care Plus, IHC Group, Illinois Mutual, Principal, Tokio Marine