Cheap Disability insurance (Free Online quote No B/S)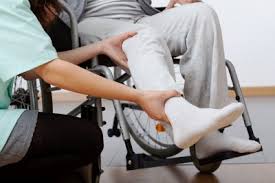 Your most valuable asset is the ability to make a living. Disability insurance pays a part of your income if you can't work for a long period because of an illness or injury.
So Here's Why You Need Disability Insurance
If you're young and healthy and work at a desk, you may think the likelihood of being out of work for months or years of work due to an injury or illness is remote.
But according to the Social Security Administration, more than one in four 20-year-olds will have some type of disability for 90 days or more before they reach 67.
When people think of disabilities, they think of severe injuries like a spinal cord injury or loss of limbs due to a horrific accident.
The truth is most disability claims are from back injuries, cancer, heart attacks, diabetes, or other illnesses.  These are things that can affect anyone at any time and can prevent you from working while undergoing treatment.
How long could you make it without a paycheck? Chances are you wouldn't make it very long, which is why you were working in the first place. This is where disability insurance steps in.
Understanding the Two Types of Disability Insurance
Short-term disability insurance and long-term disability insurance are the two main types. During your disability both replace a part of your monthly base salary up to a specific cap, like $10,000. Some long-term policies may pay for additional services, such as training to return to the workplace.
Individual Short-Term Disability Insurance
Typically replaces 60% to 70% of base salary.
Will payout for a few months up to one year, depending on the policy.
May have a short waiting period, such as two weeks, after you become disabled and before benefits are paid.
Individual Long-Term Disability Insurance
Typically replaces 40% to 60% of base salary.
Benefits end when the disability ceases. If the disability continues, benefits stop after a certain number of years or at retirement age.
A typical waiting period is 90 days after disability before benefits are paid.
Disability policies will vary in how they determine "disabled." Some types of policies only payout if you can't work any job that you are qualified to work. Others payout if you can't perform a task in your current occupation. Some policies cover partial disability, meaning they pay a portion of the benefit if you can work part-time. While others only pay if you can't work at all.
If you are looking for a disability insurance quote contact Blake Insurance Group today, we will be happy to go over your options and help you find the best coverage for your needs.
Here's Top Disability Insurance companies
Ohio National's Disability Income Insurance
What would happen if an accident or illness prevented you from working? For most of us, our lifestyle is dependent upon the family breadwinners' income. Disability income insurance provides replacement income if you're unable to work due to an illness or injury.
Coverage for individuals
Ohio National's individual policies are available for people in all types of occupations. Whether you're a doctor, cabinetmaker, executive, teacher, or technician, your Ohio National representative can design a disability income policy to meet your needs and budget.
Coverage for small-business owners
Ohio National offers two types of disability income policies to protect small-business owners and their companies.
• Business Overhead Expense (BOE) reimburses business owners for the expenses necessary to keep their company running upon the disability of any of the owners.
• Business Buy-Sell provides the funds to effect an orderly transfer of ownership in the event of a business co-owners disability.
Protect your income
Ohio National's ContinuON Income Solutions ® disability income insurance products can provide the funds to protect your lifestyle should you suffer an unexpected illness or injury. Our policies are industry leaders, with strong contractual definitions, competitive features, and pricing.
How much disability income insurance do you need?
Talk to your Ohio National representative today. To find a representative, please use the link left above.
Disability income insurance issued by Ohio National Life Assurance Corporation. Policy and rider definitions, features, exclusions, and limitations may vary by state.
Guarantees are based upon the claims-paying ability of the issuer. Disability income insurance is not available in CA. Issuer not licensed to conduct business in NY.
Assurity Disability Income Insurance
Portfolio
Income Protection for Individuals and Small-Business Owners
Income protection solutions
Assurity has a full disability income portfolio designed to help your clients with their personal and business needs. Our great products are backed by our great employees in new business, underwriting, and claims services. With over 125 years in the market, Assurity has the expertise to help you customize solutions to fit your client's lifestyle, occupation, budget and health conditions.
Products & Solutions
Personal
Century Individual Disability Income (IDI).
Pays a monthly benefit to help protect the loss of income in case of a disabling illness or injury.
Simplified Disability Income.
Streamlines DI coverage through a short application and simplified underwriting.
Graded Benefit Disability Income (GBDI).
Provides coverage for clients who are unable to qualify for traditional DI coverage due to health history.
Business.
Business Overhead Expense (BOE) Disability Income.
Reimburses a monthly amount of business expenses to help keep the business going.
AFLAC SHORT-TERM DISABILITY INSURANCE
Helping Pay Your Bills, While You Pay Attention to You What if one day, not very far in the future, you become disabled and you can't go to work. How would you pay for the expenses of daily life such as monthly mortgage or rent, groceries, and your utilities? The bills keep on coming even if you're unable to work. That's where Aflac's short-term disability insurance policy can help make the difference.
It's a source of monthly income you may need to help take care of your bills while you take care of yourself. Why Aflac Short-Term Disability may be the best choice for you: • It's sold on an individual basis. You choose the plan that's right for you based on your financial needs and income. • We offer the option of guaranteed-issue,1 short-term disability coverage. That means no medical questionnaire is required. • We pay you a cash benefit for each day you are disabled.
Click here for additional information.
Pivot Health
Latitude membership package includes many benefits that help curb everyday health care costs and cover other expenses incurred if ill or injured. Benefits include: *.
Unlimited Doctor Consultations by Telephone or Video, 24/7.
Skip the waiting room and connect with a physician.
Savings of up to 75% Off Prescription Drugs.
Members can text or email prescription drug discount deals straight to their phones or print a discount drug card.
Discounts of 15%– 40%.
Off Eye Exams, Lenses, Frames, and Contacts.
Supplemental Insurance Benefits include.
• Accident Medical Expense.
• Critical Illness.
• Accidental Death & Dismemberment.
• Daily In-Hospital Indemnity.
Latitude can provide you with important savings on everyday medical expenses and protection against expenses for serious illness and accidents.
If you have an accident or are diagnosed with a critical illness, the supplemental insurance included in the membership plans helps cover your insurance deductible, medical bills, the mortgage– whatever you need the funds for. This allows you to focus on the most important aspect of recovery, which is getting better.
American Fidelity Disability Income Insurance.
Help Protect Your Employees' Paychecks.
A Different Opinion on Disability Insurance.
Contrary to what you may believe, disability insurance is not a one-size-fits-all plan. Many generic disability policies don't take your specific industry needs into accounts, such as sick leave or employee demographics. This could result in your employees being over-insured or paying for disability insurance benefits they may not be able to receive.
AF ™ Disability Income Insurance products are designed specifically with the industries we serve in mind to help employees protect their income and lifestyle.
Focused on Employee Education.
It's extremely important your employees are educated on what disability insurance is, as well as the importance of having it. When employees don't know why they need coverage, they may not purchase it. You offer this benefit to help your employees, so you want them to be covered in case of a disabling injury or illness.
This is where American Fidelity can help.
Our career account managers will evaluate your organization's sick leave policies and each individual's financial needs to make a customized recommendation during enrollment. Our goal is to help ensure your employees elect the right amount of coverage for their salary and financial needs.
Mutual of Omaha.
Disability Income Insurance Underwritten by Mutual of Omaha Insurance Company.
Immediate coverage for when you need it.
Short-term disability income insurance allows you to have immediate coverage that can fill the protection gap until your employer-based benefits kick in. Coverage is portable, meaning you own the policy so it's not tied to your current job. You can tailor coverage to your needs with several optional benefits.
Short-term disability income insurance might be right for you if …
you want immediate coverage from the first day of your disability.
you only need coverage until your employer-provided disability insurance would begin paying benefits.
you're interested in protection that is portable, not tied to your job.
you are willing to accept a shorter benefit period to keep the premium as low as possible.
Product Details.
Short-Term Disability Income Insurance.
• Monthly Benefit – Based on a portion of your current income. The maximum monthly base benefit is $5,000.
• Elimination period * -0/ 7 (accident/sickness), 7, 0/14, 14, 30, 60 or 90 days.
• Benefit period * – 3, 6, 12 or 24 months.
• Issue ages – 18-61.
• Premium ** – Premium rate is level until coverage ends at age 67.
Contact an Agent.
to schedule an appointment call 520-402-6002.
** You must be in this age range to purchase Mutual of Omaha Insurance Company's (Mutual of Omaha) disability income insurance plans. Premiums will remain level to age 67 even if you file a claim. The only way your premium would be changed prior to age 67 is if you change your policy features or premiums are raised collectively for all people with the same Mutual of Omaha policy.
Built-in Benefit Highlights.
Some of the benefits included in the base policy are.
Total Disability Income Benefit.
If an injury or illness prevents you from performing the duties of your regular job, and you aren't gainfully employed in another occupation, we will pay you a monthly benefit once the elimination period has been met.
Partial Disability Benefit.
If an injury or illness prevents you from performing the duties of your regular job or more than 50 per cent of your normal day, we will pay you 50 per cent of the total disability monthly benefit once the elimination period has been met. Payable for up to six months.
Guaranteed Renewable.
We can not cancel this policy, up to age 67, as long as you pay the premium when due.
Waiver of Premium.
Premium is waived for the coverage and optional riders after you are disabled for 90 days. We will also refund any premiums you paid during this 90-day period.
Workers' Compensation.
If you are disabled by an injury or sickness that is covered by state or federal workers' compensation, employer's liability, or occupational disease law we will pay you 50 per cent of the short-term disability benefits for which you are eligible.
Rehabilitation Benefit.
You may be eligible to receive vocational rehabilitation services at our expense.
Optional Benefits (additional premium applies).
Critical Illness Benefits Rider (Form 0LL8M).
Pays up to $25,000 in a lump-sum benefit if you are diagnosed with certain specified diseases.
Hospital Confinement Indemnity Benefits Rider (Form 0LL9M).
Pays up to $500 for each day you're confined to a hospital. The benefit doubles for days of confinement in intensive care. Benefits are payable for a maximum of 45 days for any period of confinement.
Accident Medical Expense Benefits Rider (Form 0ML1M-41).
This rider will provide you with reimbursement for medical-related expenses incurred per accident. Maximum benefit amounts per accident are $1,000, $2,000, $3,000 and $5,000. The benefit only applies to services and supplies received within 26 weeks from the date of the covered injury.
Return of Premium Benefit Rider (Form 0AZA4M Rev. or 0AX5M Rev.).
Pays you back either 50 or 80 per cent of premiums minus claims paid after 10 years, depending on the option you choose.