cheap Classic auto insurance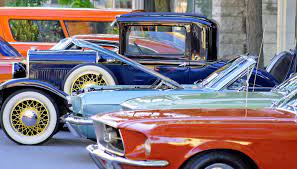 If you love classic cars and you plan on owning one someday there are a few things you need to know about classic car insurance. Even if you own an old car already and you have it insured with a regular insurance policy you may not have the right kind of coverage you need.
Bottom line? If you're an old car lover there are things you absolutely have to know about insurance for the cheapest classic car insurance.
First and foremost, if you're one of the many who thinks classic auto insurance is very expensive auto insurance you'll be happy to hear that it's not. In fact, insuring an old car can be a lot cheaper than insuring a daily driver but there are some things you need to do when it comes to insuring an old car.
If you're buying classic auto insurance buy it from a company that specializes in insuring classic automobiles like us in Blake Insurance. While these policies will often have annual mileage limits since classic cars are not usually driven on a regular basis, the premiums are usually more than reasonable when compared to what you pay in premiums for insurance on your daily driver cars.
Also, make sure you compare rates from a variety of companies. Quotes on cheap insurance for classic cars can vary drastically from one company to the next. This is because many companies do not specialize in classic cars so they don't understand the insurance needs of the people who own them. Get online quotes from a number of top-rated insurance companies will enable you to see which ones cater to classic car owners and which ones do not.
When you do compare rates on classic auto insurance you may be surprised at just how affordable it is. The key is in getting a variety of quotes and choosing one from a reputable company that knows the ins and the outs of classic car insurance.
Owning a classic or collector car is truly a passion. You can spend weeks and even months trying to locate the perfect car, and then even longer restoring a vehicle to mint condition. After all of the labor of love that you have put into the car, you want to make sure your car is protected with the right insurance, but not every insurance company offers classic auto insurance. You really need to find an insurance company that offers insurance policies suitable for your unique classic auto needs, but this isn't always easy.
If you have started shopping around for the right classic auto insurance coverage for your special vehicle, you will find that it's not easy to find the perfect coverage you are looking for at an affordable price. This is what we at Blake Insurance group LLC are trying to solve,
Many people have a passion for American classic car insurance like antique cars, classic cars, street rods, custom cars, muscle cars, vintage racers, and more, but not everyone offers policies for these types of cars. We at Blake Insurance can help you find the protection you need for the vehicle you are so passionate about.
About Hagerty®
Over 30 years, Hagerty has grown to be the leading global provider of classic car and boat insurance, but they're still just a family business built on a love for classics. Their passion drives them to keep improving their product and to give their clients the best service imaginable.
Why Hagerty®?
At Hagerty, they're as passionate about classics as their clients are. Their deep knowledge of classic vehicles and their owners allows them to offer better coverage for less. They offer:
Guaranteed Value™ coverage – They'll agree with upfront on a fair value for your classic, and in the event of a covered total loss, you'll receive that full amount, less any deductible or salvage value, if retained. Guaranteed.
Flexible usage – Classic and collector cars were made to be driven. Whether you're going to a show or taking a cruise to an ice cream shop, you are protected.
Hagerty Plus® Roadside Service and Benefits – A comprehensive 24/7 full-service roadside assistance program specifically for collector cars. It offers service for lockouts, battery jumps, tire changes, emergency fuel delivery, and more. Includes guaranteed flatbed towing with soft straps.
Expert claims handling – Their claims adjusters are trained in classic vehicle repair. In event of a claim, they offer stock original replacement parts and even have specialists on staff to hunt down rare and hard-to-find parts.
Low premiums – Because they only protect classics, they're able to offer insurance at rates considerably lower than daily driver insurance.
To make sure your classic is properly protected, contact Blake insurance group LLC to learn more about a Hagerty policy.
What Hagerty Insures:
Hagerty is the world's leading insurance provider for classic vehicles, offering coverage for classic cars, trucks, motorcycles, boats, tractors, and more. Hagerty also offers coverage for high-value collections, overseas shipping and touring, classic car-related businesses, and club liability.
To make sure your classic is properly protected, contact Blake Insurance Group LLC to learn more about a Hagerty policy.
Guaranteed Value™
With Hagerty's Guaranteed Value™ (agreed value) coverage, they'll work with you to agree on a fair value for the classic, and in event of a covered total loss, they'll pay that amount (minus any deductible or salvage value if you keep the vehicle).