life insurance quotes over 50-Can I get a policy after 50? (Compare online quotes No B/S Calls Or spam email)
Yes. You can find affordable coverage without sacrificing the quality of protection in your 50s. life insurance quotes over 50. A simple way to get started is by comparing life insurance providers that offer policies in line with the coverage you need. As you look at policies, you'll notice that starting from age 50 on, your life insurance premiums are likely to start increasing drastically as you get older.
If you are over 50 and don't have any coverage at all, or need to increase your coverage for a period of time, take a look at term life insurance policies first. Term coverage offers traditional life insurance benefits with customizable policy options.
Your monthly premiums remain locked in place at a predetermined rate for the entire length of the term you purchase. life insurance quotes over 50 Term policies are typically sold for fixed periods of time between 10 and 30 years in length. This can be helpful for those with continuing obligations, such as a mortgage or college costs, but looking for an affordable monthly payment that they can budget for. (Compare online quotes No B/S Calls Or spam email)
When you reach your 50s, your life and financial commitments probably look a bit different than they did in, say, your 30s. You may find yourself wondering whether you need life insurance at all.
Before you make your decision, there are some variables to examine to see if a life insurance policy still makes sense. best over 50 life insurance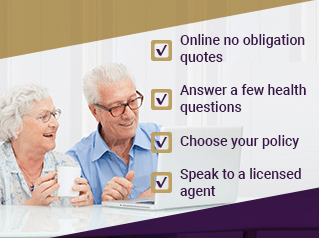 Another life insurance plan that may appeal to people over 50 is to convert an existing term policy to a permanent one. If you elect to purchase a convertible policy, you may be able to convert to a permanent policy with no medical exam or need to prove insurability. This type of flexibility could be helpful as your needs change over time.
It is important to note that your premium may increase when and if you do elect to convert your policy to permanent coverage. If you purchase a convertible policy, be sure to find out how long of a window you have in which to convert the policy to a permanent one after purchase. Convertibility is possible only during the time agreed to by you and your insurer in your contract
Life Insurance for Seniors Over 60,70 even 80years old                      
Some older adults over 60, 70, or even 80 years of age, are looking for a smaller coverage amount, enough to cover final expenses such as burial costs or to pay off bills. If so, Guaranteed Issue Whole Life Insurance coverage (or Life Insurance for the Elderly) may be the best fit for you. Sometimes known as senior life insurance, burial insurance, or final expense insurance, these policies typically range in coverage amounts from $5,000-$25,000.
Guaranteed Issue Whole Life Insurance coverage was designed specifically to meet the needs of adults ages 50-85. With guaranteed acceptance, no medical exam, and up to $25,000 in coverage, this senior life insurance policy offers a guaranteed way to help protect their legacy. Guaranteed Issue Whole Life benefits can help your loved ones pay for medical bills and final expenses. This can alleviate stress on your family helping to enable them to resolve your outstanding financial matters in your absence.
No matter your age or needs, purchasing a policy as young as possible can help provide security for your family. And remember, with many types of policies, typically the younger you are when you purchase, the less your costs will be. Don't delay, you may want to consider getting get a senior life insurance policy soon!
So, you've decided to purchase affordable life insurance for over 50. Well then, you have made a good decision! If you have dependents, you know that you must provide for them long after you are gone. Buying life insurance shouldn't be a budget buster either. Take a look at the following options which can help you save big time!
Types of Life Insurance: There are four types of life insurance plans from which you can choose: Term Life, Whole Life, Universal Life, and Variable Universal Life.
1.Term Life is the most affordable as it lets you lock in a fixed rate for the length of the policy [typically 10 or 20 years], but it does not have any cash accumulation. So, the only way it pays is if you die!
2.Whole Life offers policyholders lifetime coverage, guaranteed level premiums, tax-deferred accumulation of cash values. In other words, you can borrow off the policy if you need the cash.
3.Universal Life offers policyholders Lifetime coverage, flexible premiums, and death benefits, tax-deferred accumulation of cash values. Rates are adjustable.
4.Variable Universal Life offers lifetime coverage, flexible premiums, and death benefits, tax-deferred accumulation of cash values, a selection of investment options. Rates are adjustable.
Contact an Agent: Once you have determined which type of insurance is best for you and your family, contact an agent for further guidance. If you received an acceptable life insurance quote online, follow through with it to allow an agent to contact you personally. This person will go over your policy and discuss with you the various types of companies offering coverage.
If you are satisfied and want to proceed further, the agent will order a comprehensive medical exam that can be done in the convenience of your home or office at no charge to you! About four to six weeks later the results will be in and if all goes well, coverage will begin almost immediately thereafter. At no point are you obligated to accept coverage until you sign a contract?
More Savings: Do you want to save even more money? Pay the premium all at once. Monthly or quarterly payments usually carry a surcharge. By paying the entire premium in advance you can save around 5%.
Providing for family members after your death is one of the most important reasons to include life insurance as part of your financial planning. You can receive your free life insurance quote by shopping online today; don't delay!