Get on Board with ATV Insurance
Gear up, off-roaders! It's time to talk about something as thrilling as that adrenaline-charged rush you get when you conquer a rugged trail on your ATV – insurance.
No, wait! Don't just ride away into the sunset just yet. I promise to make this fun. Imagine ATV insurance as that essential piece of gear, just like your helmet, that keeps you and your beastly machine safe and sound. Remember, as an informed ATV rider, your safety is as paramount as your wild adventures!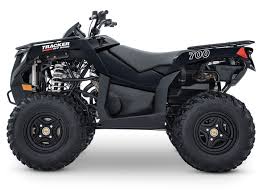 Let's embark on this wild ride, covering the off-road insurance landscape, including ATV insurance, UTV insurance, and the best deals for cheap ATV insurance. So fasten your seat belts, we're in for an exciting ride!

Are you an ATV enthusiast? Do you love the thrill of off-road adventures? If so, then you need to make sure you have the right insurance coverage. ATV insurance is not only a smart financial decision, but it can also help protect you and your assets in the event of an accident. In this article, we will explore everything you need to know about ATV insurance, including what it covers, how much it costs, and where to find the best deals. So, buckle up and get ready to hit the trails with confidence!

.
What is ATV Insurance?
ATV insurance is a type of coverage that is specifically designed for off-road vehicles. Unlike standard auto insurance policies, ATV insurance provides protection for accidents and damages that occur while riding off-road. According to the National Association of Insurance Commissioners (NAIC), ATVs are not covered by standard auto insurance policies. Therefore, it is important to have a separate policy that covers your off-road vehicle.
Securing Your Off-Road Journey: ATV Insurance
Did you know insuring your robust off-road vehicle doesn't have to exhaust your wallet? Yep, that's right! There are plentiful 4×4 insurance discounts out there, waiting to be claimed. How you pay, the other policies you hold, and even your safety skills can qualify you for a sweet deal. Let's dive into how you can not only secure your beloved four-wheeler but also save some serious green!
Unraveling ATV/UTV Insurance: What's Covered?
Insuring your ATV/UTV is not just about basic liability protection and comprehensive/collision coverage. It's a complete package designed to give you maximum peace of mind when you're off-roading. The who's who of insurance companies, including Progressive, Safeco, Encompass Hartford, Kemper Preferred, MetLife, Mutual of Enumclaw, Nationwide, and more offer wide-ranging coverage for:
Collision: Protects your vehicle against accident-related damage.
Comprehensive: Safeguards against non-collision damage like fire, theft, or vandalism.
Medical Payments: Covers excess medical expenses after your health insurance.
Uninsured Motorist: Provides protection against uninsured or under-insured parties at fault.
Property Damage and Bodily Injury: This helps if you're liable for injury or damage to another party's property.
Drilling Down Coverage: For your ATV/UTV
Collision Coverage: Turns out, colliding with a tree doesn't earn you a badge of honor, but a hefty repair bill. Ensure your quad stays protected against collision or upset damage.
Comprehensive Coverage: From fires to burglary to deer strikes, comprehensive coverage ensures your quad's safety against non-collision events.
Accessory Coverage: Got cool add-ons to your ATV/UTV? Accessory coverage protects items like plows, windshields, racks, custom seats, radios, and even your helmet and riding gear.
Uninsured/Underinsured Motorist Property Damage: Protects your ATV/UTV against damage caused by a motorist lacking adequate insurance and found at fault.
Drilling Down Coverage: For You
Medical Payments Coverage: This covers medical expenses beyond what your health insurance covers.
Uninsured/Underinsured Motorist Bodily Injury: Covers your injuries if an uninsured or underinsured motorist is at fault.
Funeral Expense Coverage: Covers funeral expenses following an ATV/UTV accident that results in death.
Drilling Down Coverage: For Others
Bodily Injury Liability: Protects you if you're liable for injury, sickness, or death to someone else in an ATV/UTV accident.
Property Damage Liability: Safeguards you if you're liable for damage to another's property in an ATV/UTV accident.
How Much Does ATV Insurance Cost?
The cost of ATV insurance varies depending on several factors, including the type of coverage you choose, the value of your ATV, and your driving history. According to ValuePenguin, liability coverage costs about $88 per year, while full coverage costs around $327 per year. However, it is important to note that these are just average costs, and your actual premium may be higher or lower depending on your specific circumstances.
Where Can You Find the Best ATV Insurance Deals?
When shopping for ATV insurance, it is important to compare quotes from multiple providers to find the best deal. Some of the top ATV insurance providers include Allstate, Progressive, Nationwide, and Liberty Mutual Be sure to ask about discounts for things like safety features, multiple policies, and good driving records. With a little research, you can find the perfect policy to fit your needs and budget.
ATV insurance is a must-have for anyone who loves off-road adventures. It provides protection for accidents and damages that occur while riding off-road, and can help protect you and your assets in the event of an accident. By understanding what ATV insurance covers, how much it costs, and where to find the best deals, you can hit the trails with confidence and peace of mind. So, get out there and enjoy the ride!
Unleashing the Savings: Finding the Best Deals in Arizona and Beyond
Whether you're looking for UTV insurance in Arizona or trying to compare side-by-side insurance quotes online, knowing your state's requirements is key. Some states mandate ATV drivers to have liability coverage, while others might not. Knowledge is power – and in this case, savings!
You can easily secure atv insurance quotes online, utv insurance quotes, or even an atv utv insurance combo by understanding what you need. If you have motorcycle insurance, you could add your ATV/UTV to your existing policy for more savings.
Tip: Completing a motorcycle safety course might lower your insurance rate. It's like a win-win – you're safer and richer!
Conclusion: Ride into the Sunset, Insured!
ATV Insurance is not just a formality; it's a necessity. Whether you're looking for the cheapest ATV insurance, or figuring out what UTV insurance covers, make an informed choice. So, get that ATV insurance online quote today and venture onto the trails with confidence and peace of mind.
Happy trails and ride on! 🚜