The general insurance review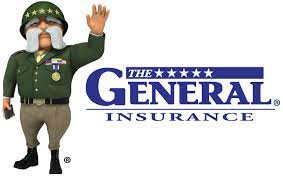 The General Automobile Insurance Services, Inc. (The General ® )is a licensed insurance agency that is a subsidiary of PGC Holdings Corp. (PGC) which is an affiliate of American Family Insurance. Through its insurance company subsidiaries and their predecessors, PGC has been writing automobile insurance in many states throughout the country for over 50 years
The General ® offers auto insurance for drivers that have had a history of driving violations or accidents, have not kept their insurance in force, or have less than perfect credit. So, you can still find a good price for your auto insurance needs
The Genera realize that you have other things you want to spend your money on. Therefore, it is their goal to offer a low down payment option to every policyholder. offer payment by credit card, and accept electronic checks in some states
The General ® is pleased to provide auto insurance in Arizona. We offer low-cost auto insurance online even if you have a less than perfect driving record, have never been insured before, have let your policy lapse, or have had your auto insurance coverage suspended or revoked.
(Free No Obligation quote No B/S Calls or spam emails)
We've provided some information below that we hope will be helpful in answering some of the more common questions we've received from our customers.
Mandatory Minimum Level of Coverage
Car insurance coverage in Arizona must provide a minimum of $25,000 for injury liability for one person in an accident, $50,000 for all injuries in an accident, and $15,000 for property damage in an accident.
Coverage Explanation:
Bodily Injury
– $25,000 for the death or injury of any one person, any one accident
– $50,000 for all persons in any one accident
Property Damage
– $15,000 for a single accident
The good news is getting cheap car insurance quotes in AZ isn't difficult. Let's review tips on how to find and compare quotes to end up with an affordable insurance premium.
You can instantly compare free auto insurance quotes online start an online quote and get no-obligation auto insurance quotes online from multiple insurance companies insurance agents in Tucson AZ will compare multiple insurance carriers to get your car insurance in AZ
What information do you need to get car insurance quotes?
To quickly and easily receive auto insurance quotes, you should come prepared with the following information on hand:
• Date of birth.
• Vehicle storage location.
• Drivers license number.
• Driving and insurance history.
• (VIN) Vehicle Identification Number of the vehicle to be insured.
• Driver's license and personal information for any drivers on the policy.
• Driving history: with accidents, citations, claims, and any completed driving courses.
What affects your car insurance quote in Arizona?
You have to understand the primary goal of an insurance company is to predict risk and assign premiums based on the risk a particular driver may pose. Car insurance companies assess your entire driving profile to estimate this risk, including factors such as location, demographics, insurance history, driving record, and vehicle.
Auto insurance prices may vary on a zip code-by-zip code basis.
We offer car insurance in Tucson Arizona, Oro Valley, Phoenix AZ. Chandler Arizona. Mesa AZ, Scottsdale Az, Peoria Arizona, Yuma AZ, Surprise AZ, Ajo AZ, Amado AZ, Arizona City, Avra Valley AZ, Casa Grande AZ, Douglas AZ, Marana AZ, Green Valley AZ, Globe AZ, Oracle AZ, Tubac AZ, Sierra Vista AZ, Tempe AZ, Gilbert AZ, Glendale AZ