New SGH SECUREHEALTH insurance Plans are Now Available!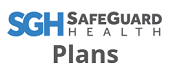 Looking for an affordable supplement to a high deductible or health share program?  an alternative to Obamacare? health insurance alternatives? This not a traditional health insurance plans
New SGH SECUREHEALTH plans include 100% coverage for ACA-mandated preventive services, office visits, and prescription drug programs.
Partnered with a provider network for lower out-of-pocket costs, your clients will find savings and value with safeguard health plans
When it comes to your health, having flexible options allows us to live our best life. The benefits that come with SGH SECUREHEALTH can help offset the expenses members may incur on a High Deductible Health Plan (HDHP) or prior to meeting their Individual Sharing Amount (ISA) on a healthcare sharing program.
Ways to deal with Your Healthcare Costs
Shop around. Considering alternatives to health insurance is important for maintaining a healthy budget. A comprehensive budget calculator can help you understand which option is the best for you.
If you or a family member are without health insurance coverage, there are a number of options available to you. Whenever possible, it's best to arrange alternative coverage prior to lapses. Receiving medical care without medical insurance coverage of any kind can result in very high out-of-pocket costs for medical care that, depending on the nature of procedure or service, can take years to pay of
SGH SECUREHEALTH PLAN SUMMARY There are three options
SecureHealth Value
Preventive Care Visits (including Routine Diagnostic Imaging, X-rays and Blood Work).
Primary Care Visits (PHCS Specific Services – www.multiplan.com).
Pharmacy Benefit – Discount Card (GlicRx.com).
SecureHealth Preferred
Preventive Care Visits (including Routine Diagnostic Imaging, X-rays and Blood Work).
Primary Care Visits (PHCS Specific Services – www.multiplan.com).
Pharmacy Benefit – (www.BestChoiceRx.com).
SecureHealth Elite
Preventive Care Visits (including Routine Diagnostic Imaging, X-rays and Blood Work).
Primary Care Visits plus Specialist Visits (PHCS Specific Services – www.multiplan.com).
Pharmacy Benefits – (www.BestChoiceRx.com).
Guaranteed Issue product.
If member exceeds their office visits, member will receive the PHCS network discount.
If member does not use an in-network provider, the member will be responsible for the full cost of the service( s) provided. This Plan DOES NOT cover Out-of-Network services.
PHCS PPO NETWORK.
SGH SecureHealth plans include the PHCS Specific Services Network. Members have access to a premier national network that includes access to 5,000 hospitals, 107,000 ancillary facilities and approximately 917,000 practitioners. MultiPlan negotiates discounts that result in significant cost savings when members visit in-network providers, helping to maximize.their health services. A PHCS logo on the SGH ID card tells both the Member and the Provider that a PHCS discount applies.
Leveraging data science, MultiPlan is attempting to incorporate processes into each of its cost management and payment and revenue integrity services. MultiPlan Negotiation Services was the first to benefit from a data science project with the implementation of the Negotiation Prioritization Tool. MultiPlan won the "Healthcare Data Solution of the Year" Designation in the 2022 Data Breakthrough Awards Program for the tool and was named a winner for the CIO 100 Award, which recognizes enterprise excellence and innovation in IT.
Negotiation Prioritization Tool
The Negotiation Prioritization Tool was developed to help MultiPlan's team of negotiators manage their work queues. Prior to the tool, each negotiator spent hours each week sorting their queue, using their own method to determine which claims were the most important and which had the highest chance of success.
Using a combination of machine learning and business rules, the Negotiation Prioritization Tool now sets negotiators' workflow for them. The tool prioritizes claims that have the highest likelihood of reaching a settlement and generating savings for our clients.
Since implementing the Negotiation Prioritization Tool, negotiators have improved their productivity by at least 10%, measured by the average number of claims closed each day. Most important, they have been able to deliver higher savings to our clients. We generated an additional estimated $40 million in incremental savings annually for our clients as a result of this tool.
One of the biggest advantages of building tools and enhancing systems with data science is that the system's performance isn't static; rather, it adapts over time with the continual infusion of recent data. The adjustments to our predictive models ensure continued differentiated outcomes for our clients, even with the changes in healthcare caused by COVID-19 and the No Surprises Act.
MultiPlan's data scientists are working on several other projects that will enhance other MultiPlan services
Members can find participating doctors or facilities near them by going to www.multiplan.com and following the instructions.
Below or by calling (888) 263-7543.
1 – Click on "Find a Provider".
Find a doctor or facility page.
2 – Click on the "Select Network" button and choose "PHCS".
3 – Click on "Specific Services".
4 – Type in the search criteria and location.
It is the Members' responsibility to confirm the provider or facility's continued participation in the PHCS Network and accessibility under the Specific Services program. When scheduling an appointment, Members need to specify that they.
have access to the PHCS Network, confirm the provider's current participation in the PHCS Network, their address and that they are accepting new patients. In addition, to ensure proper handling of their bills, Members should always present their SGH ID card upon arrival at your appointment.
NOTE:
Conventional health insurance available through the Affordable Care Act exchange has appealing benefits such as coverage of pre-existing conditions and the possibility of subsidies. But the premiums for conventional health insurance don't fit every budget. One of these lower-priced alternatives may give you the protection you need for a price you can afford