Main Street America Group: Business Home Auto Insurance                                                                 (Free Quote No B/S Calls Or spam emails)
F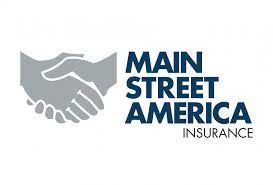 ounded in 1923, The Main Street America Group provides insurance to individuals, families, and small businesses in 37 states, as well as provides fidelity and surety bonds in 47 states and the District of Columbia
Main Street America writes business through eight carriers: NGM Insurance Company, Old Dominion Insurance Company, Main Street America Assurance Company, MSA Insurance Company, Grain Dealers Mutual Insurance Company, Main Street America Protection Insurance Company, Spring Valley Mutual Insurance Company, and Austin Mutual Insurance Company
NGM Insurance Company
NGM Insurance Company, a Florida-domiciled stock insurance company, is Main Street America's flagship carrier. A complete line of personal and commercial products and services is written with NGM for Main Street Americans throughout New England, the Northeast, Mid-Atlantic, Southeast, and Southwest and West.
Old Dominion Insurance Company
Personal and commercial products in Georgia, as well as commercial products in Florida, are written with the Old Dominion Insurance Company In addition, Main Street America's Personal Auto MVP (Multivariate Program) rating model is written with Old Dominion in many of the states where the pricing model is offered.
Austin Mutual Insurance Company
Austin Mutual, an affiliate of Main Street America, provides personal and commercial products in 19 Midwest and the Western States.
Grain Dealers Mutual Insurance Company
An affiliate of The Main Street America Group, personal and commercial products are written through Grain Dealers Mutual in Indiana, Mississippi, North Carolina, Oklahoma, Tennessee, and Virginia.
Main Street America Assurance Company
Property and casualty insurance business in 16 of Main Street America's states is written with Main Street America Assurance Company
MSA Insurance Company
Excess and surplus lines insurance for Florida commercial insureds is written through MSA Insurance Company, a South Carolina-domiciled stock insurance company.
Spring Valley Mutual Insurance Company.
Spring Valley Mutual, an affiliate of Main Street America, provides homeowners and farm owners coverage in Minnesota.
Main Street America Protection Insurance Company.
Main Street America Protection has been licensed in Florida to provide commercial line products in the Sunshine State.
Main Street America's Main Line Business Owner's Policy (Main Line BOP) was designed with your small business in mind. We offer the coverage needed in today's dynamic marketplace to protect what's important to you: your livelihood. We are proud to offer small business owners a variety of coverage's designed to protect their specific needs, including main street insurance agency
• Contractors– Carpentry, masonry, painting, landscaping, electrical work, carpet, and floor installation, janitorial services, heating, and air conditioning, concrete construction
• Offices– Lawyers, accountants, real estate agents, physicians or surgeons
• Services– Hair salons, barbershops, photographers or interior decorators
• Retail– Gift shops, clothing or apparel stores, home improvement stores
• Restaurants– Delis, cafes, sandwich shops, fast food locations
• Condos– Commercial
• Wholesale– Electrical supplies or goods distributors
main street auto insurance
Main Street America offers highly competitive rates, enhanced coverage options, and a wide variety of discounts designed to meet the personal auto insurance needs of individuals and families who exhibit care and responsibility with regard to their driving habits, vehicles, and loss history.
• New Vehicle Replacement
• Diminishing Deductible Rewards
• Accident Forgiveness
• Original Equipment Manufactured Parts Replacement
• Full Safety Glass
• Roadside Assistance
• Loan-Lease Protection
• Other Valuable Coverage
Extend Your Auto Coverage
Auto Elite Program – This includes three different levels of coverage. All levels offer transportation expenses, personal clothing/baggage, roadside assistance, and accidental airbag deployment. Additional coverage includes trip interruption, disappearing collision deductible, loan/lease, extra medical expense benefits plus accident forgiveness.
Main Street America provides property insurance protection that will give you peace of mind knowing your assets are adequately protected. We offer a variety of additional coverage's to extend your protection beyond our Homeowners insurance, such as:
• Extended Replacement Cost coverage
• Replacement Cost on Contents
• Water back-up
• Law or Ordinance coverage
• Valuable items protection
Extend Your Homeowners Coverage
• Homeowners Elite Program – This includes three different levels of coverage. All levels feature replacement cost coverage and our premium endorsement, Platinum, also provides increased protection for valuables, reimbursement for living expenses following a loss, and other benefits.
• Home Systems Protection– Covers mechanical breakdown and electronic impairment of items such as HVAC and other appliances.
• Service Line– Covers loss due to failure of underground electrical and water/sewer lines.
CLAIMS
( 877) 4Claims (877-425-2467).
Available 24/7.
GENERAL INFORMATION.
( 800) 258-5310.
8 a.m.– 4 p.m. ET.
Monday-Friday.
MAILING ADDRESS.
The Main Street America Group.
P.O. Box 2300.
Keene, NH 03431.