kemper preferred Arizona
(Free No obligation quote No B/S Calls or spam email)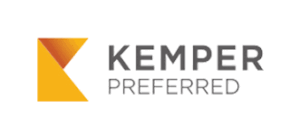 Kemper is a diversified insurance holding company with subsidiaries that provide an array of products to the individual and small business market. Kemper Personal and Commercial Lines sells Auto, Home, and Package Plus policies through independent agencies.
Kemper Specialty California sells personal Auto insurance in the state of California through independent agents and brokers to customers who may have had difficulties obtaining or maintaining insurance in the past. Kemper Direct sells Auto and Home by phone and online. Kemper also offers Life and Health Insurance through Kemper Home Service Companies and Reserve National
kemper preferred Auto Insurance
Whether you own or lease, Kemper has an Auto policy that's right for you. And we stand by you with the Claims service that's rated among the best in the industry.
Standard and Preferred Auto Insurance
Your vehicles are important to you. Ask your Kemper agent about our coverage, deductibles, and limits. You can customize your standard and preferred Auto policy with the following enhancements:
Kemper Total ™– protection in the event your vehicle is significantly damaged due to a covered loss
• While most insurers only pay actual cash value (ACV), we may pay the amount necessary to repair the vehicle or pay you the amount necessary to buy a "new vehicle," whichever is less. A new vehicle is one that has not been previously titled or is the latest model year available at the time
• Available for brand-new leased or purchased vehicles
• Standard rental reimbursement is doubled (in states where available).
• Auto Loan/Lease is included. kemper preferred auto insurance quote
High-risk non-standard Auto.
Low-cost Auto insurance you can trust.
Looking for a way to save on auto insurance? You're in luck. Kemper has low-cost auto insurance options that meet the needs of a wide variety of drivers. Whether you are an agency looking for an auto insurance company or a driver needing car insurance, Kemper has you covered. Contact a local independent agent to find out more.
Here are some of the products and services we offer:
Kemper EZPaySM text cancels alerts.
Text messages alert you when your policy is in danger of cancelling. Stay alert– receive an alert via text message right to your mobile phone. Pay anywhere, anytime– we'll include a link to let you pay right from your phone.
kemper preferred Roadside Assistance.
Flat tire? Dead battery? Need a tow? Locked out of your car? With the purchase of Roadside Assistance from Kemper, one call puts you in touch instantly with the help you need. For just pennies a day, it's an affordable option to get assistance with these services and more.
SR-22 Arizona
Have a suspended, revoked, or cancelled driver's license? Kemper offers an affordable SR-22 option to help drivers get back on the road quickly.
Kemper Preferred Homeowners Insurance.
Your home. Your valuables. Your vacation condo. And, the rental property. The insurance professionals at Kemper can cover them all with coverage options that meet your needs.
Whether a home is a house, a condo, or an apartment, we have coverage options that fit your needs. We offer Condo coverage to suit the specific needs of condominium owners. Renting your home? Kemper offers
Renters insurance to protect your valuables. Ask your Independent Agent to walk you through our multiple Homeowners' coverage's and enhancements.
Consider adding Replacement Cost content coverage to your Home policy. Replacement Cost Contents provides an even greater level of protection because it can eliminate depreciation of an item's value; it generally covers the item's replacement cost.
Moreover, when you supplement your Home policy with Replacement Cost Dwelling, you can get a higher dollar limit on your Dwelling coverage.
In our Homeowners program, we also offer coverage for boats and properties you rent to others. And, we can protect you with Identity Fraud Expense insurance, too.
Personal Property Insurance for Your Valuables.
Your grandmother's wedding crystal. That bronze sculpture you bought in Italy. Your engagement ring.
Your home is filled with valuables that standard Homeowners, Condominium, and Renters coverage may not fully protect. That's why Kemper offers three enhancements that you can buy to ensure your belongings are fully covered.
Scheduled Personal Property.
If you have individual items of significant value, you can list each item on your policy, along with a specific amount of insurance you need for each. No deductible applies; appraisals to determine the value of scheduled items may be required.
Life and Health Insurance.
Life Insurance.
Insure what's really important.
Our whole life products offer coverage for life at a level premium, paid over a choice of time frames, with developing cash values.
Our term products offer coverage for a limited time period, at a lower premium, with no cash value at the end of the policy's term.
Health Insurance.
We can help you with your health insurance needs, including coverage.
• Accidents.
• Home Confinement.
• Surgeries.
• Outpatient services.
• Medicare Supplement.
• Home Health Care.
• Cancer and Heart Care.
• Specified Disease and Critical Illness.
• Supplemental Dental and Vision Expense.