What is the Health Share Membership? 
It's Not Insurance: Health Share Membership
Christian healthcare sharing is not Christian Health Insurance Christian healthcare sharing ministry where members share each other's medical expenses
Medical Cost Sharing Ministries are an affordable way to plan for unforeseen medical expenses. When you break it down, medical cost-sharing, or health sharing ministries, are a group of like-minded individuals agreeing to come together and help each other pay their medical expenses. Christian insurance group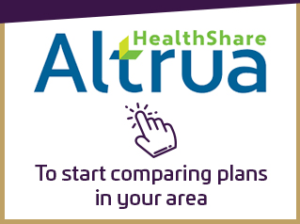 Thousands of individuals, families, and organizations rely on each other for their medical needs.
How it works is simple.
Individuals, couples, families, churches, and organizations contribute financially to the members' escrow account and we act as a neutral escrow agent for the members.
• Members' medical needs are shared according to the Membership Guidelines and escrow instructions.
• Members are asked to submit a monthly contribution.
• Members present their Membership ID card when medical services are received and the provider submits the medical need according to the instructions on the back of the card.
What is OneShare Health

OneShare Health is a medical cost-sharing program that helps individuals and families address the
challenges of escalating healthcare costs and soaring insurance premiums. It is not insurance, but rather
an affordable alternative. Membership contributions are often thirty-five to fifty per cent less than
traditional medical insurance policies and our members enjoy access to the largest PPO network in the
nation, PHCS.Scripture tells us that we should carry one another's burdens through prayer and encouragement.
That's why it's OneShare Health's Mission, as a Christian Health Care Sharing Ministry, to empower people with the Freedom of Choice by providing biblical alternatives to traditional health insurance
Members are at the center of our decisions. We advocate for savings and quality care as good stewards of Member Contributions. We listen to and partner with Members, providing support throughout their healthcare journey
aliera healthcare

At Aliera, we believe everybody deserves access to quality healthcare. The new aliera healthcare structure will help us simplify the complexities of the traditional system and make it even easier for individuals, families, and employers to get the healthcare services they need when they need them. Affordable Alternative to ACA Health Insurance.
Because these plans are not insurance, they do not fall under state and federal regulations governing health insurance. Members of HCSMs pay a monthly contribution that goes into an escrow account, and it is that money that is used to pay qualified medical needs. They do not guarantee the payment of claims.
Aliera's individual and family-focused health sharing plans are designed to streamline access to affordable, high-quality healthcare without the costs and complexities of most one-size-fits-all traditional medical plans. Aliera's nationwide self-funded employer programs improve employee participation, promote stable monthly costs and increase potential for premium ROI because they are customized to meet a wide variety of needs and budgets
Covenant HealthShare

Covenant HealthShare was formed for one purpose: to live out the vision of doing good by and through people. Health Care Sharing Health share membership Ministries are about doing the right thing: Providing security and comfort, giving to, and helping build the community.
Covenant's history is rich in American culture and traces its roots back to Memphis, Tennessee. As one of the first mega churches in Atlanta, Covenant's predecessor has created community and has a vast history of sharing in members' medical needs since the early 1990s. Our predecessor has been a cornerstone of our community and has earned a historic title since operations began over 80 years ago.
Modern times have allowed us the opportunity to broaden our community and extend our health care sharing plans, also known as medical cost sharing programs, to a wider community of nationwide believers. Our mission is simple: To glorify God through the facilitation of sharing members' medical needs, provide support and prayer in members' time of burden, preach and empower the Word of God, and encourage a healthy lifestyle for Christ