GET A GOODRX PRESCRIPTION DISCOUNT CARD FOR FREE!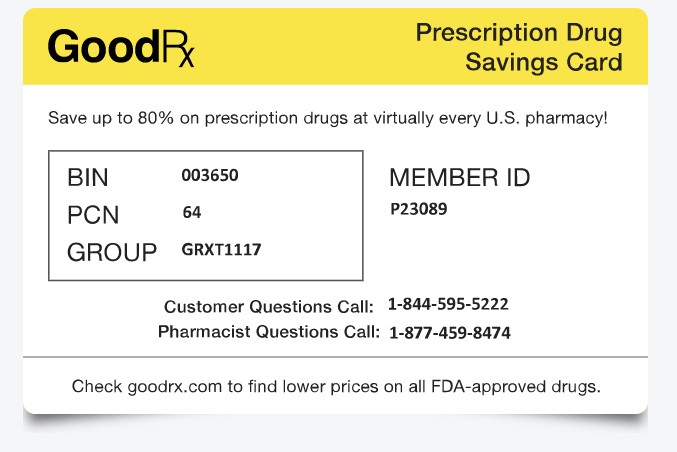 GoodRx Drug prices can be less than insurance prices for generic and brand-name drugs
There are lots of insurance plans with prescription $15 and $20 copays, Yet thousands of drugs are under $10 with GoodRx prescription Card, Many more are $5 or less!! Also, GoodRx's everyday low prices are a huge help for those who have high deductibles, Restricted drug tiers, or are stuck on the
Medicare prescription
donut hole
Save Up To 80% On Prescription Medicines. Get a Free Card! (no purchase necessary) Save More for Your Family. Save Up to 80% Calculate Your Savings Accepted Nationwide. It's Fast, Easy & Free. Get The Card That Works. Get Instant Savings.
Compare prescription drug prices and find coupons at more than 60000 US … card that can be used for discounts of up to 80% on most prescription drugs
USING YOUR GOODRX PRESCRIPTION DRUG SAVINGS CARDS INSTEAD OF
YOUR INSURANCE
IS EASY
Over 10million Americans use GoodRx Monthly because it's very easy to SAVE
The cost of a prescription may differ by more than $100 between pharmacies … discounts to help you find the lowest cost pharmacy for your prescriptions. …
prescription discount cards
, and is not required to register as a discount card provider
When you go to fill a prescription, do you present your health insurance card at the pharmacy and assume you're getting the lowest price? You may be paying too much. The cash price for many prescription drugs– especially generics– is often less than insurance co-pays.
GoodRx is accepted at 70,000+ U.S Pharmacies