Golf cart insurance                              Free Online Quote (No B/S Calls Or Spam emails, Just free quote)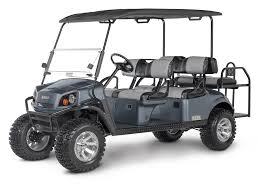 Having golf cart insurance is important because it helps protect you from these kinds of risks. If you damage someone's property or get in an accident while on the golf course.
Some basic coverage Includes:
• Bodily injury and property damage liability
Although not required in every state, golf cart liability insurance can protect you if you're liable because you injured someone or damaged their property while riding  Your court costs and legal fees are also covered up to your policy's limits.
• Collision coverage/ Comprehensive
coverage If your golf cart is vandalized or stolen, comprehensive pays to repair or replace it. Additionally, comprehensive covers damage from a fire, hitting an animal, an act of nature, or glass breakage. If you're in an accident with another vehicle, object, or even a vehicle on the street, collision coverage will pay for repairs or replacement
• Medical payments
Medical payments coverage pays for your hospital bills if you or your passengers are injured in a golf cart accident While medical payments are optional, coverage is vital if you or your passengers don't have health insurance. This coverage may help pay to repair damage to your golf cart in certain situations. They may also help cover your expenses if you cause an accident that injures another person or damages their property.
Some states require golf cart insurance. In Arizona, for instance, owners are required by law to have liability insurance if they use the vehicle on roads. So, be sure to check your state's laws to help determine if insurance is required if you live in these states: Alaska, Arizona, California, Colorado, Connecticut, Delaware, Florida, Georgia, Hawaii, Idaho, Illinois, Indiana, Iowa, Kansas, Kentucky, Maine, Massachusetts, Michigan, Minnesota, Mississippi, Missouri, Montana, Nebraska, Nevada, New Jersey, New York, North Carolina, North Dakota, Ohio, Oklahoma, Oregon, Pennsylvania, Rhode Island, South Carolina, South Dakota, Tennessee, Texas, Utah, Vermont, Virginia, West Virginia, Wisconsin, and Wyoming.
Even if you're not legally required to buy golf cart insurance, it may make sense for you to do so. Golf carts can get stolen or damaged, and they can also cause serious damage or injuries in an accident.
What is the average cost of golf cart insurance?
insurance rates vary based on the coverage you select and the make and model of your golf cart. Your age and driving history also factor into the price. Quote golf cart insurance online From these companies Auto-Owners Badger Mutual Bristol West Encompass GAINSCO Hallmark Hartford Kemper|Infinity Mercury MetLife Mutual of Enumclaw Nationwide Progressive Safeco Safeway State Auto Travelers
How you use your golf cart affects how much coverage you need. Depending on how you use it, consider this coverage's for your golf cart insurance.
What information do you need to get insurance quotes? Here's what you need:
To quickly and easily receive auto insurance quotes, you should come prepared with the following information on hand:
• Date of birth.
• Vehicle storage location.
• Drivers license number.
• Driving and insurance history.
•( VIN) Vehicle Identification Number of the vehicle to be insured.
• Driver's license and personal information for any drivers on the policy.
• Driving history: with accidents, citations, claims, and any completed driving courses
• Basic Policy: Helps protect your Toy if you only drive it on a course. You can add this endorsement to your homeowners' insurance policy.
• ATV golf cart: Using a modified golf cart at the golf course or off-road requires more coverage. You may want to get both ATV insurance for golf carts and umbrella insurance.
• Modified– Low-speed vehicle (LSV): If you plan to use your golf cart on the course and on public roads, you may need to get an auto insurance policy for LSVs Depending on where you live, your state may have different insurance requirements. These laws vary by state, so it's a good idea to make sure you get the right coverage.