Flagstaff Insurance
Flagstaff is surrounded by mountains, desert and ponderosa pine forests. It's a gateway to the San Francisco Peaks, home to Arizona's tallest mountain (Humphreys Peak) and the Arizona Snow bowl ski resort
Flagstaff attracts people from all walks of life, whether they are searching for outdoor thrills, historic hotspots, or an escape from the desert heat. It's a stop on historic Route 66, one of the first highways to be built in the United States
Auto insurance flagstaff Arizona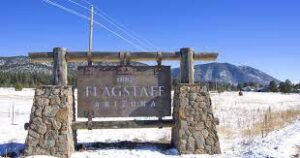 Arizona drivers who are looking for affordable car insurance have the option to choose from several cheap car insurance companies in the state. The cheapest company for full coverage car insurance in flagstaff Arizona is progressive, with an average premium of $560 for 6 months. is the cheapest company for minimum coverage car insurance in the state, with an average premium of $294 for 6months Drivers who want the cheapest rates might consider buying a minimum coverage policy, as it costs less than full coverage. Keep in mind, though, that a minimum coverage policy offers limited financial protection and does not include any coverage for physical damage to your vehicle. If you are considering a minimum coverage policy,
Home Insurance Flagstaff Arizona
Determining which homeowners insurance to buy is an important decision. After all, homeowners insurance is designed to protect one of your most significant financial investments. If you're not sure where to find the right policy, we're here to help. There are eight different types of coverage, six of which are designed to protect traditional (non-mobile) homes. Some types of coverage are bare bones, offering basic protection. Others offer all the bells and whistles. The best homeowner's insurance companies offer them all. Before shopping for homeowners coverage, it's important to know the level of coverage desired. Very few people can afford to lose the money they invested in their home and the stuff that's in it.
And most people can't afford to pay for major repairs that might be necessitated by something like a fire or a tree falling on the house. And even if you can afford to pay out of pocket to replace a home and all of the possessions within it, this would be a huge waste of money when it's possible to pay affordable home insurance premiums to transfer this risk to an insurer.
In addition to the coverage for the property and its contents, it's also important to buy liability insurance. This is a policy that pays out if someone is injured on a policyholder's property. Since an injury could cause millions of dollars in damage, this coverage may be even more important than protection for the house since a homeowner might otherwise have to pay out of pocket if someone is hurt and the property owner is held legally responsible.
Home and Auto Insurance Bundles
Car insurance is a requirement by law in most states, and home insurance can be required by mortgage lenders or homeowners' associations– but there are other reasons why you might want to bundle both types of coverage. For home and vehicle owners, bundling these two types of insurance by purchasing both policies from a single insurer can have potential benefits such as discounted prices and streamlined record-keeping.
Although a bundle may look like a discount up front, you'll want to take a deeper dive into the fine print to determine exactly what is covered and make sure both auto and home policies work for your personal needs before buying
Health insurance flagstaff Arizona
Arizona uses the federally-facilitated exchange, so residents enroll through HealthCare.gov. Open enrollment for 2023 plans runs from November 1, 2022, to December
While lots of information about the exchange exists, the purpose is to provide Arizona health insurance plans and rates that meet your lifestyle and in some cases provide tax subsidies to provide relief. The health insurance marketplace is designed to make it simple to compare various insurance coverage options that exist for individuals and families
If you need health coverage for you or your family, you can choose health plans like TriTerm Medical– Health insurance plans that last nearly 3 years. Coverage for preventive care, doctor visits, pharmacy and more
Need coverage for a brief time? Standard Health insurance coverage to bridge the gap if you're between jobs or need a short-term solution. plans can help you fill a gap in coverage from 1 month to just under a year.
You can also compare plans on range of supplemental plans like dental insurance, vision insurance, accident insurance, student insurance, international travel insurance and more
How much should you spend on health insurance in flagstaff AZ?
Health insurance helps pay for medical expenses. But it isn't free. That's why it's important to know how much you can afford to spend on health insurance on an annual basis.
The first cost in health insurance is the premium. If you are the only person in your household and make less than $49,960 per year and don't have health insurance through your employer, you may qualify for federal subsidies, like the premium tax credit to help you pay the monthly premium. (The income limit for subsidies is based on federal poverty guidelines and varies based on your state and household size.).
If you don't qualify for a subsidy, you should aim to spend under 5% of your annual gross income on health insurance premiums. That's how much consumers spend, on average, on health insurance premiums.
How to Save Money on Health Insurance in flagstaff Arizona
With health insurance costs skyrocketing, it's more important than ever to save where you can. Our guide will show you how and provide some creative solutions as well.
Medical expenses can be a big drain on your bank account and may even lead to bankruptcy. Interestingly enough, this can be the outcome even when people are covered by health insurance. Sky-high health insurance premiums and out-of-pocket costs– in combination with the lost wages that often come with a serious illness or injury– can create tens of thousands of dollars in personal expenses.
For that reason, it's imperative that you know how to save money on health insurance. That includes, as much as anything else, knowing how to properly manage the plan you have and take advantage of every cost-saving technique that may be available.
Find the Cheapest Insurance Quotes in Flagstaff Arizona
Know Your Health Insurance Plan
It's unfortunate but very few people know what's in their health insurance plan
Out-of-Pocket Maximums DO Matter
As the cost of healthcare skyrockets, insurance companies have made policies "more affordable" by passing more of the first dollar medical expenses onto the consumer
Dealing with Out-of-Pocket Costs
As you can see, out-of-pocket costs have gotten much more complicated in recent years
Your guide to short term health insurance, Most Americans can sign up for low-cost, short-term health plans.
Yes, short-term health plans provide coverage, but they fall well short of what's considered health insurance under the Affordable Care Act (ACA).
The ACA restricted short-term plans to young people and Americans who couldn't afford any type of insurance. However, the federal government changed that to allow anyone to apply for a short-term plan in 2019.
Short-term health plans are low-cost, low-coverage plans. These plans are available for most people up to one year with the option to extend the plans twice. In effect, you could have a short-term plan for three years. That's unlike regular health insurance, which doesn't have time limits.
A good way to think of short-term plans is that they're temporary health insurance with lower premiums, higher out-of-pocket costs and less coverage than a standard health plan.
Arizona insurance agency-Blake insurance group LLC


Offers a full line of property/casualty insurance products, including auto and homeowners insurance, as well as commercial and life insurance from Top rated insurance carriers
Blake insurance group LLC Has 4 locations in Arizona Tucson, Phoenix, Scottsdale and Peoria serves the following states Alabama, Texas, California, New York, Ohio, Florida, North Carolina, Virginia and Georgia
Our team of trusted insurance professionals is committed to helping the client find a policy that perfectly fits their needs. BIG focus on providing personalized attention and exceptional customer service in order to create an experience that is difficult to find in today's market.
Blake insurance group LLC is committed to providing quality insurance products for individuals and businesses. BIG combines their strong insurance background, along with their product knowledge, to assist both current and future clients manages and plan for all types of potential risk.
Primarily offer personal lines coverage like auto, health, home, renters, condominium, umbrella life as well as boat, jet ski, snowmobile, collector car, motor-home, mobile home and motorcycle coverage. We also offer a wide range of commercial lines coverage like general liability, workers compensation, business auto, umbrella,