farm and ranch insurance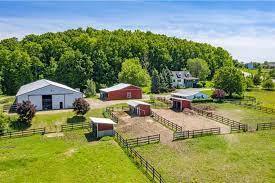 Protect your farm or ranch with a tailored policy that combines various coverage into one convenient package. A ranch insurance policy covers your property and provides liability coverage that can be tailored to the needs of your home and ranch operations. Farm and ranch owners insurance is dual coverage that protects your operation and the home that you live in
While ranch insurance policies differ, in general, you'll find four areas of protection: Every farm or ranch is different. Large or small, we can customize coverage for every operation. No matter if you have a corporate farm, hobby farm, or something in between, we have the coverage options right for you.
• Home and contents, including detached garages and other personal use buildings.
• Ranch personal property
• Ranch structures
• Liability protection
protection for your home and possessions against fire, lightning, windstorms, hail, and most accidental losses, including vandalism and theft. Supplementary coverage's, Extra protection built into your policy for fire department service charges, debris removal, signs, fences, trees, and more.
Other coverage, Complete insurance protection for farmers including replacement coverage for outbuildings, medical expense coverage for employees, peak season coverage that provides increased coverage for specific periods of time and more you can get farm and ranch coverage these states: Alaska, Arizona, California, Colorado, Connecticut, Delaware, Florida, Georgia, Hawaii, Idaho, Illinois, Indiana, Iowa, Kansas, Kentucky, Maine,
Massachusetts, Michigan, Minnesota, Mississippi, Missouri, Montana, Nebraska, Nevada, New Jersey, New York, North Carolina, North Dakota, Ohio, Oklahoma, Oregon, Pennsylvania, Rhode Island, South Carolina, South Dakota, Tennessee, Texas, Utah, Vermont, Virginia, West Virginia, Wisconsin, and Wyoming
Many of our dedicated, regionally-based farm underwriters have personal experience as farm owners or grew up on farms, so they truly understand your business. That's why we offer a special business owner's policy for farm owners like you. We'll cover farm dwellings, machinery and equipment, autos, personal property, and more.
We work with a wide range of agricultural businesses, including:
• Berry growers
• Cattle and livestock grazing
• Cotton and field crop growers
• Dairy farms
• Gentlemen/hobby farms
• Grain and rice growers
• Hay and alfalfa growers
• Vegetable and row crop growers
• Wineries and vineyards