EMC insurance Review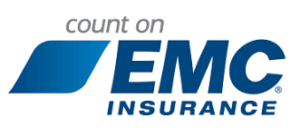 EMC Insurance Companies is in the top 50 property&casualty organizations in the United States and is one of the largest in Iowa, based on net written premium.
Founded in 1911, EMC Insurance Companies is financially solid, built on more than 100 years of serving policyholders and independent insurance agents. Today, EMC employs more than 2,500 employees in 19 locations across the country
EMC Named a Five-Star Carrier
EMC was named a five-star insurance carrier in a 2018 report issued by Insurance Business America, a leading business magazine for commercial insurance brokers and agents. EMC earned five-star ratings in the categories of reputation and financial security, claims processing, range of products, and commitment to the broker channel
EMC sells its products solely through independent insurance agencies in more than 40 states. We believe our partnership with independent agents brings a superior level of personalized service to the insurance process
With a commercial property policy, three types of property are covered: the building, your business personal property, and the personal property of others.
EMC Business Personal Property Insurance
Business personal property coverage includes, but is not limited to, furniture and fixtures, machinery and equipment, stock, all other personal property owned and used in the business, labor, materials or services furnished or arranged on personal property of others, and leased personal property that an owner has a contractual responsibility to insure.
Personal Property of Others
Personal property of others coverage provides protection for owners who ordinarily hold a property for the benefit of both parties, such as dry cleaners or processing firms. If the property is held is damaged or destroyed, protection is available, subject to policy terms.
EMC Inland Marine
Businesses that use land or air transportation to move goods need inland marine insurance coverage for property that is mobile, involved in communication or transportation, or in the temporary custody of others. If those products are damaged or destroyed while in transit, the inland marine policy protects the business from financial loss.
Liability insurance covers business risks arising from injuries or property damage that are caused by a business's products, completed jobs, premises, or operations. EMC offers general liability, umbrella liability, and employment practices liability insurance, in addition to business property, business auto, errors or omissions, crime, and workers' compensation coverage.
EMC General Liability
EMC's commercial general liability insurance can protect your business from liability exposures, including premises and operations, independent contractors, product liability, and completed operations. From injury or property damage resulting from defective design or production to a fall and injury at your place of business, we've got you covered.
EMC Umbrella
An important part of your insurance portfolio and EMC umbrella policy adds protection and is a key insurance and risk management tool that may provide your business with additional security in the event of a catastrophic liability claim.
EMC Employment Practices
Employment practices liability (EPL) coverage is available by endorsement to your general liability, auto dealer or business owners coverage. Our EPL coverage, designed for businesses with 250 employees or fewer, can help defend against employment discrimination, sexual harassment, and wrongful termination employment claims, which can be expensive, disruptive, and time-consuming
EMC Commercial auto insurance
Commercial auto insurance can protect your business from financial loss due to an auto accident. The following physical damage coverage's are available:
• Collision: Pays for a loss to your auto or equipment caused by a collision of a covered auto with another object or an overturn of the covered auto
• Comprehensive: Pays for a loss caused by glass breakage, hitting a bird or an animal, or falling objects or missiles
• Specified causes of loss: Pays for loss to a covered auto or its equipment caused by fire, lightning, explosion, theft, windstorm, hail, earthquake, flood, mischief, or vandalism
• Towing and labor: Pays for towing and labor costs incurred when a covered private passenger auto is disabled
Supplementary coverage and endorsements include:
• Auto medical payments insurance: Provides sources of medical expense reimbursement for policyholders and their passengers injured in auto accidents
• No-fault (personal injury) protection: Pays regardless of which party was at fault, guaranteeing you recovery in the event of a loss, where available
• Uninsured and under insured motorists coverage: Recovery for those injured in an accident caused by an at-fault motorist without an adequate amount of bodily injury liability coverage to pay for any or all of the damages