compare Health share membership
What is the Health Share Membership? 
It's Not Insurance: Health Share Membership
Christian healthcare sharing is not Christian Health Insurance Christian healthcare sharing ministry where members share each other's medical expenses
Medical Cost Sharing Ministries are an affordable way to plan for unforeseen medical expenses. When you break it down, medical cost-sharing, or health sharing ministries, are a group of like-minded individuals agreeing to come together and help each other pay their medical expenses. Christian insurance group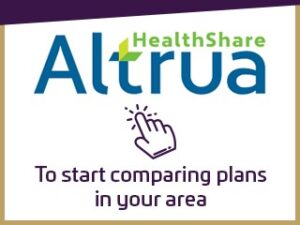 Get an online quote and buy coverage
Thousands of individuals, families, and organizations rely on each other for their medical needs.
How it works is simple.
Individuals, couples, families, churches, and organizations contribute financially to the members' escrow account and we act as a neutral escrow agent for the members.
• Members' medical needs are shared according to the Membership Guidelines and escrow instructions.
• Members are asked to submit a monthly contribution.
• Members present their Membership ID card when medical services are received and the provider submits the medical need according to the instructions on the back of the card.
What is OneShare Health

OneShare Health is a medical cost-sharing program that helps individuals and families address the
challenges of escalating healthcare costs and soaring insurance premiums. It is not insurance, but rather
an affordable alternative. Membership contributions are often thirty-five to fifty per cent less than
traditional medical insurance policies and our members enjoy access to the largest PPO network in the
nation, PHCS.
aliera healthcare

At Aliera, we believe everybody deserves access to quality healthcare. The new aliera healthcare structure will help us simplify the complexities of the traditional system and make it even easier for individuals, families, and employers to get the healthcare services they need when they need them. Affordable Alternative to ACA Health Insurance.
Because these plans are not insurance, they do not fall under state and federal regulations governing health insurance. Members of HCSMs pay a monthly contribution that goes into an escrow account, and it is that money that is used to pay qualified medical needs. They do not guarantee the payment of claims