columbian financial group Review
Disclaimer: We are not in any way affiliated with the Columbian financial group. In fact, we are Independent Insurance agents that offer Top Rate final expense insurance Products. This article is our personal review of their life insurance and Pre Need programs along with our opinions on the matter. If you are looking to contact Columbian financial group directly with this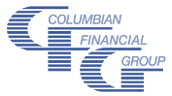 Columbian financial group Review
Columbian Life Insurance Company is an Illinois-domiciled stock company that is included in the Columbian Financial Group of companies. Columbian Life has the support of Columbian Mutual's 137 years of experience, as well as the strength of its surplus. Columbian has always prided itself on maintaining a solid financial and investment posture to ensure that it can meet its policyholder obligations. The Company continues to be well-capitalized given its strong surplus levels.
The most important determinant of a life insurer's financial strength is its investment portfolio – Columbian Mutual and Columbian Life's portfolios are exceptional. Our companies' investment portfolios, in excess of 1.64 billion, consist of well-diversified and high quality fixed income securities (i.e. bonds and commercial mortgages). Columbian has never been an active investor in non-investment grade bonds. The commercial mortgage loan portfolios continue to perform exceptionally well.
Columbian also conducts its insurance business in a conservative manner. Columbian carefully scrutinizes and actively reinsures risks in excess of its desired retention only with companies that are financially sound.
Overall, Columbian is dedicated to maintaining a sound financial position which its policyholders justifiably expect.
Columbian Life Insurance Company, an Illinois domiciled stock company, is an integral part of the Columbian Financial Group of companies. Our parent company, Columbian Mutual Life, is domiciled in Binghamton, New York, and has been providing quality life insurance protection since 1882. Our Company has always prided itself on maintaining a solid financial and investment posture to ensure policyholder obligations are met.

We offer consumer-oriented products designed for family and business life insurance needs and provide prompt, accurate, and friendly service to our clients.
Our portfolio covers a full range of highly competitive life insurance products:
• Home Service
• Ordinary.
Universal Life.
Term.
whole Life.
• Preneed.
• Final Expense.
• Senior Plans.
We design our products with you in mind. From our Company's beginning, we have had a commitment to providing value to our policyholders. We strive to meet every day, as well as the long-term needs of our clients and those close to them.
Your Columbian agent can help you accomplish your goals by designing coverage that suits your specific needs.
Columbian also offers you supportive customer service. We understand that when you call, you need answers to your questions. Our knowledgeable staff is prepared to offer you the assistance you need at the time you need it. Our objective is client satisfaction.