Cigna Arizona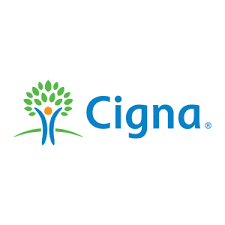 Cigna is a global health service and insurance company helping people make healthier decisions
Cigna is an American worldwide health services organization based in suburban Bloomfield, Connecticut, and Philadelphia, Pennsylvania.
Cigna offers Medicare and Medicaid products and health, life, and accident insurance coverage primarily to individuals in the U.S. and selected international markets with 95 million customers around the world and more than 40,000 employees worldwide. As your partner in health, we're available for our customers 24/7 with an expansive network built to help them meet their health goals. We're on a mission to improve the health, well-being, and peace of mind of those we serve.
                                                                     Cigna Individual and Family Health Insurance Plans
As your partner in total health, Cigna offers affordable health insurance coverage that fits your needs, right at your fingertips
Cigna Dental insurance keeps you smiling
Take care of your teeth and gums with flexible, affordable dental insurance plans from Cigna az health insurance
Medicare supplement plans Arizona
Age is one factor that Medicare Supplement Insurance (Medigap) companies can use when determining the premiums for plans. Your Medigap premium is how much you pay per month to be a member of the plan.
Medicare Supplement Insurance premiums tend to increase with age. As you compare Medigap quotes, it may be helpful to consider how your age could affect your Medigap premium costs over time.
Compare Medigap Plan Costs in Your Area
Bear in mind that the premium averages listed above are just that — averages. There may be plans available in your area that cost less than the average listed above for your age.
Other factors such as gender, smoking status, health and where you live can also affect Medigap plan rates.
A licensed insurance agent can help you compare Medicare Supplement Insurance plan costs in your area so that you can find a plan that fits your coverage needs as well as your budget
Helps Cover What Medicare Doesn't.
Medicare only covers a portion of your healthcare costs. Medicare Supplement Insurance helps pay for what Medicare doesn't cover.
Freedom to Choose your Doctors.
Use any doctors and hospitals you choose who accept Medicare. Coverage travels with you anywhere in the U.S.
Guaranteed Renewable for Life Policy **.
Feel secure knowing your policy can not be cancelled.
** Your policy can not be terminated for any reason other than non-payment of premium or material misrepresentation in the application for insurance. The company reserves the right to increase premiums on a class basis.
CIGNA-HEALTH SPRING.
Cigna-HealthSpring is a health services company committed to helping our nation's Medicare and Medicaid beneficiaries live healthier, more active lives through personalized, affordable, and easy-to-use health care solutions. health care plans Arizona
• We offer a variety of options and services to support healthy ageing and meet our customers' individual health care needs through personal attention, wellness, and preventive care. Cigna health insurance Arizona
• We take a team approach to health care by supporting the doctor-patient relationship through clinical and customer engagement, holistic care coordination, and detailed analytics.
• We aim for better health results, affordability, and customer satisfaction.
We understand that your health and wellness are as unique as you are and finding a plan that meets your specific needs may seem overwhelming at times. That's why we offer a variety of plans and an easy-to-use plan comparison tool to help you find the Cigna-HealthSpring Medicare plan that's right for you. Our plans are designed to help you find the support you need, like paying for drugs or additional medical costs. Factors for finding the right plan include: Obama care Arizona
• Eligibility.
• The current level of health.
• Employment status.
• Present health care coverage.
Which Cigna-HealthSpring Medicare plan is right for you?
• Medicare Advantage.
• Medicare Part D Prescription Drug Plans.
• Medicaid.
Supplemental Insurance Policies.
When you experience a major health event, supplemental insurance policies help pay for many expenses that aren't covered by your primary health insurance. az health insurance
Cigna HealthCare.phoenix health plans
25500 N- Norterra Drive, Bldg.
B. Phoenix, AZ 85085.
Telephone: 1 (623) 277-1000.
Cigna HealthCare.
5310 E- High Street.
City North, Bldg.
A3, Suite 200.
Phoenix, AZ 85054. Telephone: 1 (480) 426-6700.
Accident, Life & Disability.
1 (480) 426-6801.