cheap term life insurance no medical exam
Fast, easy, free application( No B/S Calls Or spam emails) Expert help if you need it
The majority of people who apply for personalized life insurance coverage don't need a medical exam.
Our 100% online application can be completed in minutes– without confusing paperwork or phone calls with sales agents.
Affordable, personalized coverage cheap term life insurance no medical exam
We offer a wide variety of coverage options to fit your budget and give you the coverage you need.
No medical exam life insurance— also called simplified issue– offers coverage without physicals, blood tests or urine tests. If you need coverage on short notice or to have pre-existing conditions that would make it hard to pass a medical exam, simplified issue term life insurance can be a convenient and affordable alternative
When applying for no medical exam insurance, you'll be asked several questions about your health and medical history and your responses will be used to determine whether you qualify for coverage. The list of questions changes according to the insurer, meaning you may be rejected by one company only to find coverage at another.
Regardless of what questions you're asked, honesty is important. Insurers can cancel your policy during the first two years of coverage without a refund if they find that you lied or misrepresented anything. Keep in mind that even without a health exam, insurers still have a variety of ways to confirm the information you provide
No waiting period for coverage
Some forms of life insurance include some periods, which can include the following:
• Typically, the first two years following the activation of a policy is considered a waiting period. If the insured individual were to die during this time, the beneficiary generally receives only the amount of paid premiums. Beneficiaries receive 110 per cent of paid premiums if the insured person dies within two years of the policy effective date.
• Additionally, most types of life insurance generally take several weeks to take effect while the application and underwriting process plays out. But guaranteed issue whole life insurance can often be activated in just a matter of days.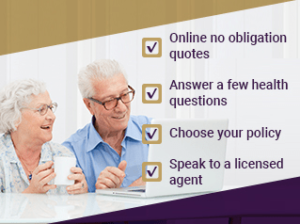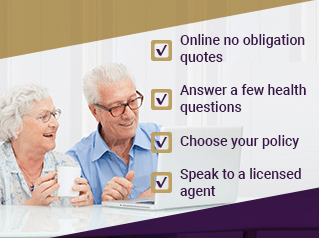 Why purchase guaranteed issue whole life insurance?
Dying without life insurance can leave your loved ones facing a financial burden, even if they are no longer financially dependent on you. Funerals can cost several thousand dollars. End-of-life medical care can become the responsibility of a spouse or adult child. Debts such as mortgages and credit cards can be inherited by family members.
Types of cheap term life insurance no medical exam
Accelerated underwriting life insurance
Accelerated underwriting is a process where the insurer gathers records about you electronically and then algorithms quickly assess what your life insurance quote may be.
The personal information gathered can include prescription drug histories, motor vehicle records, criminal records and "risk scores" created by third-party services.
Accelerated underwriting policies provide the convenience of no medical exam and can be priced as competitively as a policy that requires an exam.
Simplified issue life insurance
Simplified issue life insurance is a type of life insurance where companies use a streamlined approach to underwriting. These policies typically involve only a few health questions and do not require medical exams. The cost of simplified issue policies tend to be higher than policies done with accelerated underwriting or medical exams, because the insurer has minimal information about you.
Guaranteed issue insurance
Guaranteed issue life insurance policies offer coverage with no medical exam and no questions. You can't be turned down. Guaranteed issue life insurance is intended mainly for seniors looking to cover final expenses. These policies usually have low maximum coverage amounts and a graded death benefit, meaning they won't pay out the full amount if you pass away in the first few years of owning the policy.