Do You Need cheap burial insurance coverage? (Start a Free Online quote No B/S Calls or spam emails)
what is burial insurance?
Burial insurance, also known as a final expense or funeral insurance is a small whole life insurance policy with affordable premiums designed to pay for funeral and other burial expenses.
No exams are required and most health issues are accepted. Benefits typically range from $4,000-$ 45,000 with most carriers.
Burial and funeral planning are important elements of any long-term financial plan. The costs for both can be high; the average funeral expense ranged from $6,999 to $9,999, which includes a funeral service, burial, and installation of a headstone. cheap Burial insurance can help make those costs easier to bear for your loved ones.
Burial insurance also referred to as funeral insurance or final expense insurance, is a specific type of life insurance that's designed specifically for paying end-of-life expenses. This is most often whole life insurance, which means it stays in place throughout your lifetime as long as premiums are paid, although some insurers offer term life coverage for burial expenses.
Depending on how your policy is structured, a whole life burial policy may or may not allow you to accumulate a cash value that you can borrow against. cheap Burial insurance policies typically range from $4,000 to $45,000 and this death benefit can be paid directly to your beneficiaries to manage burial costs.
This is different from traditional life insurance, which may offer $1 million or more in coverage and can be used to pay burial expenses, as well as everyday living expenses, college costs or mortgages, and other debts. If burial insurance is a missing piece of your financial plan, consider these companies for getting the coverage you need to pay for final expenses.

" Burial insurance" usually refers to a whole life insurance policy with a death benefit of from $5,000 to $25,000. As its nickname implies, people buy this type of policy to provide money for funeral and burial costs for themselves and/or family members. It is possible to buy a policy after answering a few health-related questions on the application and with no medical exam.is available in these states: Alaska, Arizona, California, Colorado, Connecticut, Delaware, Florida, Georgia, Hawaii, Idaho, Illinois, Indiana, Iowa, Kansas, Kentucky, Maine, Massachusetts, Michigan, Minnesota, Mississippi, Missouri, Montana, Nebraska, Nevada, New Jersey, New York, North Carolina, North Dakota, Ohio, Oklahoma, Oregon, Pennsylvania, Rhode Island, South Carolina, South Dakota, Tennessee, Texas, Utah, Vermont, Virginia, West Virginia, Wisconsin, and Wyoming
how does burial insurance work
Premiums are payable weekly or monthly. The premium is usually collected at the policy owner's home or workplace, and the premium is usually a small round number, such as $2 or $3 per week; the death benefit is whatever that premium will buy given the insured's current age. For example, a $3 per week premium might buy a $6,000 death benefit for a 37-year-old man or an $18,000 death benefit for a 12-year-old boy.
Burial policies may be designed to cover one person or everyone in a family.
Under some state laws, funeral homes may be licensed to sell burial insurance, but it is mainly sold through brokers and agents of insurance companies licensed to sell life insurance.
An approach that is similar to burial life insurance (and sometimes called burial or "pre-need" insurance) is pre-payment of your funeral arrangements.
Under this program, you may select the funeral home, type of service, casket (or cremation), flowers, headstone, burial plot, the cost of digging and filling the grave, and other items, and lock in the prices for them by paying in advance.
cheap burial insurance for seniors
Burial Insurance Rates for Seniors 60-90. Rates for seniors vary based on age, sex, desired coverage amount, and whether or not you answer health questions. Policies usually offer between $5,000 and $20,000 in benefits to people ages 50 to 85
Things you need to consider before taking a Burial Insurance Policy:
• Is there any guarantee that the money will be used for the payment of funeral expenses? Or will the beneficiary be able to spend it as they wish?
• Is the regular amount you pay the same over time or does it rise as you get older?
• Will you be able to afford to keep making payments into the future? For example, after you retire, your income may be smaller or your other expenses may increase.
• How long do you need to keep paying? Is there an ending date?
• What is the total cost of the policy likely to be over your lifetime?
• How does this compare to the total cost of a funeral? Ask your funeral director what expenses are likely to be.
ESTIMATING HOW MUCH COVERAGE YOU NEED?
The average cremation is between $3,000-$5,000 while the media funeral costs between $8,000 and $10,000. Social Security offers a benefit, but right now that amount is only $255.
Funeral planning with burial insurance requires that you and your family carefully consider all your final expenses, not just the funeral or cremation. Consider how you want to be remembered, where your final resting place should be, whether you wish to be buried or cremated, and what type of casket or urn you prefer.
It is recommended that you have a conversation with a locally licensed, funeral director about the cost of the services you require. A funeral director should be able to provide a list or schedule of costs. The value of your senior life insurance policy should cover the expense of the package you choose, plus any additional costs.
burial insurance for seniors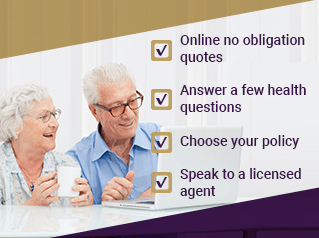 The most basic, economical option is generally an immediate burial plan. An immediate plan is a modest service at the graveside and a simple casket. The expense of a viewing is not included in most immediate burial policies. The costs of the plot, a headstone, and flowers must be paid for separately and should be included in the estimate you give your insurance provider. An immediate plan may be purchased with either burial or cremation.
A traditional full-service option, including a viewing, a hearse, a formal ceremony and entombment, and cremation is more costly than an immediate or direct package and should be considered when evaluating burial insurance.
When you consider the costs of a package, you must take every extra expense into account in order for an accurate estimate of your financial needs. Your final expense insurance benefits can include the costs of preparatory tasks like washing, dressing, and embalming. A procession, limousines, flowers, and wake can also be included.
Although most mortuaries offer packages with a pre-determined set of services and products, you have the alternative to choose only the options that you want. The overall expense of the ceremony, casket, entombment, plot and other options will represent the value of your funeral insurance policy. When you're buying life insurance, it's important to have a fairly accurate estimate of the total coverage you need to avoid leaving your loved ones with these financial responsibilities.