certificate of insurance( COI)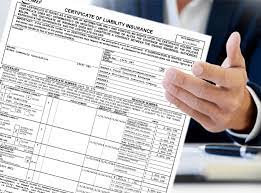 certificate of insurance is a document used to provide information on specific insurance coverage. A certificate of insurance (COI) can be issued by the insurance company or broker. The COI verifies the existence of an insurance policy and summarizes the key aspects and conditions of the policy. a standard COI lists the policyholder's name, policy effective date, the type of coverage, policy limits, and other important details of the policy.
Although the certificate should not be substituted for the information contained in the actual insurance policies, it is usually a reliable source of information or proof of insurance coverage.
Why do I need a certificate of liability insurance? Start Free Online quote now
the Certificate is quite an important document in that it serves as the insured's evidence to customers, contractors, or other third parties that the insured has obtained insurance. It indicates that the business or individual named as the insured or additional insured has the financial resources available to protect those who may come to harm through their own negligence.
It is less cumbersome than an actual policy and can be produced more quickly and efficiently. It serves the same purpose that a driver's proof of insurance serves to the victim of an auto accident whose car has been damaged– it shows that somewhere an insurance company issued a document saying there is a policy that may cover the loss.
Sometimes it is often required in order to win contracts. Many companies and individuals that hire contractors need to know that they won't be held liable for damages, injuries, or substandard work, and therefore require that you have insurance.
Even if you haven't been asked to show a certificate of insurance, it's an added benefit of having proof of your small business coverage. Most insurance providers include the certificate in your initial insurance documents; if not, they are required to provide one upon your request.
How To Obtain a Certificate of Insurance.
If you need to request proof of insurance from your insurer, these are the usual steps you'll need to go through:
1. First, ask your client that is requesting the COI what the minimums and limits of the coverage should be. Get your client's name, address, and tax identification number as well in the case that you have to increase your premium.
2. Call your broker, explain to them what the minimum coverage amount is and that you need proof of insurance. If your policy already meets the requirements, then the broker will contact your carrier to secure the COI. If you need to purchase a rider to increase coverage for the project, your broker will give you the details and the paperwork you will need to fill out and submit.
3. Once you're all set, your broker will create the COI and send a printed certificate of insurance to you, after which you will have to send it to your client in order to complete your transaction and sign your contract to start your collaboration.