box truck insurance
Box truck insurance is a commercial auto insurance policy that provides liability coverage but can also provide collision and comprehensive coverage– or be bundled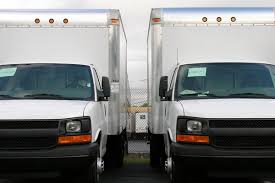 with other coverage to provide insurance for cargo and more.
Depending on whether you own your own box truck and carry your own goods or you're a for-hire trucker, you may require different types of box truck insurance coverage options.
If you're a private carrier, you may need to purchase basic box truck insurance coverage's like Liability insurance that can cover injuries or damage to people or property if you're at fault in an accident.
Box truck insurance also provides Physical Damage Coverage that protects your vehicle if it is damaged in an accident.
If you're a for-hire trucker and your Primary Liability insurance is provided by your motor carrier, you may only need to purchase certain types of box truck insurance coverage's including Motor Truck Cargo insurance to protect the goods you're hauling or Non-Trucking Liability insurance to protect your truck when you aren't under dispatch
Types of Businesses that need Box Truck Insurance coverage
There are many types of businesses that rely on box trucks for transporting goods. Box trucks are most commonly used by:
• Retail stores
• Household goods movers
• Moving companies
• Couriers.
Types of box trucks or straight trucks.
Box trucks often go by different names depending on the type of cargo being hauled or how the box truck is being used. We insure the following types of box trucks:
• Cargo cutaway.
• Icebox.
• Moving truck.
• Reefer truck.
• Sleeper box.
• Tilt cab.
While each state sets its own limits for required liability coverage, it's often recommended to consider higher coverage limits to properly protect your trucking and transportation business. Liability from accidents, particularly accidents involving bodily injury, can easily exceed the minimum amount mandated for your state,
You can get your Box Truck covered in these states: Alaska, Arizona, California, Colorado, Connecticut, Delaware, Florida, Georgia, Hawaii, Idaho, Illinois, Indiana, Iowa, Kansas, Kentucky, Maine, Massachusetts, Michigan, Minnesota, Mississippi, Missouri, Montana, Nebraska, Nevada, New Jersey, New York, North Carolina, North Dakota, Ohio, Oklahoma, Oregon, Pennsylvania, Rhode Island, South Carolina, South Dakota, Tennessee, Texas, Utah, Vermont, Virginia, West Virginia, Wisconsin, and Wyoming leaving your trucking business exposed to potentially large losses.
How Much Does commercial box truck insurance Cost?
The cost of insuring your box truck or straight truck varies by state, and can also be affected by a number of other factors– including the types of coverage and the coverage limits you choose to protect your trucking business.
Claims history and your driving record can play a role in determining rates for your truck insurance coverage. Your trusted insurance agent can help you build a policy that protects your business and fits your budget.
Liability from a single accident can reach 5, 6, or even 7 figures, creating potentially massive exposure for your business. Upgrading your policy from the state-required minimum coverage may cost less than you expect and helps protect the business you've worked hard to build.
How to get cheap box truck insurance?
When shopping for box truck insurance, it's best to compare quotes from several reputable box truck insurance companies. like that, you can find the best combination of coverage and price for your trucking business. This is particularly important for truckers who are driving under new authority because policy prices for them can be incredibly high. A good way to compare several box truck insurance quotes is to work with a broker or agency like Blake Insurance group LLC who can get multiple quotes from the companies that they partner with. This helps make the process less time consuming and more convenient for you.
Companies that cover Box truck insurance.
Progressive.
Safeco.
Encompass.
Hartford.
Kemper Preferred.
MetLife.
Mutual of Enumclaw.
Nationwide.