Auto repair shop insurance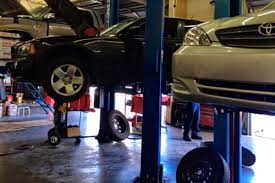 auto repair shop insurance is Garage insurance that protects against a variety of liabilities often faced by garage owners and car repair shops. These liabilities include things like In addition, auto repair shops face the following types of business risk:
• Slips and falls
• Worker illness or injury
• Faulty workmanship or parts
• Fire, bad weather, vandalism, or theft
• Damage to a customer's vehicle while in your care
• Employee theft or crime
• Business interruption
Auto repair shop insurance provides customized policies for large & small auto service any businesses that have a physical location such as a garage, parking lot, or storage area used to repair or store vehicles usually need garage insurance. This includes garages and mechanics.
• Automotive repair shops
• Body shops
• Tow or impound lots
• Muffler shops
• Transmission shops
• Auto dealerships
• Tire and battery repair facilities
Type of insurance to consider for your business
Basic auto repair business insurance:
• Garage Liability: Protects auto repair shops from liabilities like damages caused by faulty work and customer slips and falls. It doesn't cover your building or mechanic tools, so you'll want to consider property and equipment insurance if you're needing protection for these types of assets.
• Garage-keepers Legal Liability: Coverage if you're found responsible for the physical damage of a customer's vehicle while it's in your care, custody, and control.
Bigger mechanic shop insurance you might need:
• Commercial Auto: If you're a mobile mechanic, or use vehicles for your business, you'll need a commercial auto policy. We insure vehicles common to auto repair businesses such as pickups and tow trucks.Commercial auto insurance can help protect your business if, for example:
An employee hits a pedestrian while driving a vehicle for business. The pedestrian requires medical treatment that results in costly medical expenses.
You swerve off the road while driving to work in a company car and take out a residential mailbox.
An employee drives to work in a company vehicle, hits another car and totals it
• Workers' Compensation: Protects if your employees become injured or ill while at work.Each state has its own unique set of workers' compensation laws that employers must follow. These regulations help ensure that employers provide coverage for the cost of work-related injuries or occupational diseases, regardless of employee negligence.
• General Liability: Mobile mechanics typically don't have business property, but still need basic liability protection in case they cause bodily injury or property damage in the course of their work.
General liability insurance (GL), often referred to as business liability insurance, is coverage that can protect you from a variety of claims including bodily injury, property damage, personal injury and others that can arise from your business operations. General liability insurance quotes usually include:
Bodily injury and property damage liability
Personal and advertising injury
Medical payments
Products completed operations
Damage to premises rented to you
You need a variety of business insurance policies to protect your business from these risks. In addition, garage liability insurance and gatekeepers insurance help you protect your customers' property and your business in the wake of accidents, injuries, or property damage you can get coverage in these states: Alaska, Arizona, California, Colorado, Connecticut, Delaware, Florida, Georgia, Hawaii, Idaho, Illinois, Indiana, Iowa, Kansas, Kentucky, Maine, Massachusetts, Michigan, Minnesota, Mississippi, Missouri, Montana, Nebraska, Nevada, New Jersey, New York, North Carolina, North Dakota, Ohio, Oklahoma, Oregon, Pennsylvania, Rhode Island, South Carolina, South Dakota, Tennessee, Texas, Utah, Vermont, Virginia, West Virginia, Wisconsin, and Wyoming