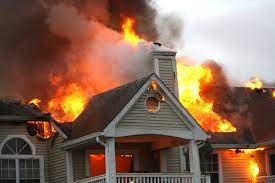 A dwelling fire insurance policy offers narrower coverage more specifically tailored to property damage coverage in the event of specific hazards. As such, these policies can be more affordable for property owners.
A dwelling fire policy may be beneficial for
*Vacation homes
*Vacant homes
*Seasonal homes
*Secondary homes
*Rental properties of all kinds (long-term, weekly, monthly, or seasonally).
*Older homes.
Dwelling fire insurance policy offers property owners a wide variety of coverage options and flexibility to protect their assets. Contrary to what its name might suggest, dwelling fire insurance coverage is not limited to fire and smoke-related damages. In fact, the covered perils are very similar to those of a standard homeowner's insurance policy.
Dwelling fire policies often offer property owners protection against hazards like explosions, vandalism, and some weather-related occurrences such as wind and lightning. Unlike a typical home insurance policy, which covers everything except for listed exclusions, a dwelling fire policy will only cover named perils.
WHAT IS NOT COVERED BY DWELLING INSURANCE?
A standard homeowner's insurance policy typically does not cover floods, earthquakes, sewer backups, or damage that occurs from a lack of maintenance. You may be able to buy additional coverage or a separate insurance policy to help cover some of these additional perils.
For example, you may be able to add water backup coverage to your existing homeowners' insurance policy to help cover sewer backups. Or, you may be able to buy flood insurance to help protect your home against flooding. Talk to your insurance agent to find out what options are available to you.
The dwelling coverage in a homeowner's policy is different from the building property protection in a condo insurance policy. If your condo is damaged by a covered peril, building property protection helps pay for repairs to the walls of your condo unit and its interior. Your condo association's insurance policy may help cover other parts of the building, such as the roof, elevator, basement, courtyards, or walkways.
DWELLING COVERAGE LIMITS AND DEDUCTIBLES.
Dwelling coverage is usually subject to limits and deductibles.
Your limit is the maximum amount that your homeowners' insurance policy will pay toward a covered loss. Your deductible is the amount you'll pay out of pocket toward a covered claim.
When you buy homeowners insurance, you choose your dwelling coverage limit. That limit should be based on the cost of rebuilding your home (not necessarily the market value of the home). Most home insurance policies come with replacement cost coverage for the structure of your home.