Roadside Assistance Services Arizona: Emergency Help When You Need It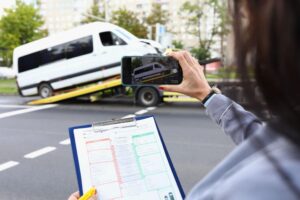 Have you ever found yourself stranded on the side of the road with a flat tire or a dead battery? It's a frustrating situation that can ruin your day. That's where Roadside Assistance Services Arizona comes in.
With just one call, you can have all your problems taken care of quickly and efficiently. Whether you need a tow or immediate roadside services like a battery jump-start or fuel delivery, help is just a phone call away.
Why You Need Roadside Assistance Services
Roadside Assistance Services are essential for any driver in Arizona. Here's why you should consider having this service:

Peace of Mind: Knowing that help is just a phone call away can bring you peace of mind while driving. Whether you're on a road trip or commuting to work, having the assurance that assistance is readily available can alleviate stress and make your journey more enjoyable.
Safety: Roadside assistance services prioritize your safety. If you encounter a mechanical breakdown or get into an accident, professional assistance will be dispatched to ensure your well-being and provide the necessary support.
Convenience: Roadside assistance services save you time and effort. Instead of scrambling to find a tow truck or a mechanic, you can rely on the service provider to handle the logistics while you focus on staying safe.
Cost Savings: When you have roadside assistance, you don't have to worry about unexpected expenses. Many services, such as towing and battery jump-starts, are covered, reducing the financial burden that comes with unexpected breakdowns.
Good Sam Roadside Assistance: A Five-Star Rated Review
When it comes to reliable roadside assistance, Good Sam Roadside Assistance stands out. With a stellar reputation and numerous satisfied customers, Good Sam's offers comprehensive coverage and a wide range of services to help you in times of need.
Here are some of the benefits you can expect as a Good Sam member:
Extensive Network: With access to over 40,000 independent towing specialists and service providers, Good Sam ensures that help is always within reach. Whether you're traveling in Arizona, Canada, Mexico, Puerto Rico, or the US Virgin Islands, you can count on their extensive network to assist you.
Flat Tire Service: Dealing with a flat tire can be a hassle, but Good Sam Roadside Assistance takes care of it for you. Their skilled service technicians will change your tire or tow your vehicle to the nearest service center if necessary.
Spare Tire Assistance: If you find yourself with a flat tire and no spare, Good Sam has you covered. They will help you purchase an RV tire and deliver it on the spot, so you can get back on the road quickly. You only need to cover the cost of the tire, parts, and labor.
Battery Service: A dead battery shouldn't derail your trip. Good Sam's network of service technicians will provide a jump start for your vehicle, whether you're at a campground or in your driveway.
Emergency Fuel and Fluids Delivery: Running out of gas is an inconvenience no one wants to experience. Good Sam will deliver up to 5 gallons of fuel to get you to the nearest gas station. They also offer essential fluid delivery if needed. You only need to pay for the fuel or fluids.
AAA Roadside Assistance Services in Arizona
Another trusted name in roadside assistance is AAA. Known for its extensive benefits and rewards programs, AAA offers valuable services that provide peace of mind for Arizona drivers.
Here are some highlights of AAA roadside assistance services:
Mobile Battery Service: If your car won't start due to a dead battery, AAA will attempt to jump-start it. If your battery needs replacement, they can provide a new one on the spot (availability may vary by location).
Emergency Fuel Delivery
: If you run out of fuel, AAA will bring you enough to reach the nearest gas station. They also accommodate requests for diesel fuel (availability may vary by location).
Tire Service: Depending on the condition of your tire, AAA will install your spare, re-inflate the tire, or arrange for towing if necessary.
Locksmith Service: Locked your keys inside your car? AAA will send a locksmith to help you gain entry. If unlocking attempts fail, towing service policy will apply (reimbursement amounts for parts and labor vary based on the AAA Membership plan).
Towing: AAA provides towing services to AAA Auto Repair shops or your preferred mechanic. The number of free towing miles available to you depends on your Membership level.
Mechanical First Aid: AAA drivers are trained to address common mechanical problems. They can make minor adjustments to get your vehicle running without requiring parts or supplies.
It's clear that both Good Sam Roadside Assistance and AAA offer valuable services to Arizona drivers. Whether you choose Good Sam for its extensive network and flat tire service or AAA for its comprehensive benefits and rewards programs, having roadside assistance coverage can save you from stress and unexpected expenses on the road.
Remember, having a reliable roadside assistance plan, like the ones offered by Good Sam and AAA, can provide you and your family with peace of mind while driving. No matter where you are in Arizona, you can trust that help is just a phone call away, ensuring your safety, convenience, and savings on the road.
 blakeinsurancegroup.com for additional information on auto insurance and roadside assistance services in Arizona.
How much does a typical roadside assistance plan cost
The cost of a typical roadside assistance plan can vary depending on the provider, the level of coverage, and the location. According to, you can expect to pay $50-$100+ per year for the most basic coverage level.  states that roadside assistance plans range from $20 to $150 per year or more, with insurance companies often offering cheaper roadside assistance than auto clubs like AAA.  provide similar estimates, with roadside assistance programs costing anywhere from around $35 to $100 or more per year, depending on the level of service provided. It's important to note that the cost can also depend on the extent of services provided, such as towing, as mentioned earlier.
Is roadside assistance worth it?
Yes, roadside assistance can be worth it in case of emergencies or unexpected breakdowns. It provides peace of mind and can save you money in the long run.
What is an alternative to AAA?
Some alternatives to AAA include Better World Club, Allstate Motor Club, and National General Motor Club.
How much is a roadside assistance plan?
The cost of a roadside assistance plan varies depending on the provider and the level of coverage. Plans can range from around $50 to $200 per year.
What is the best roadside assistance service?
The best roadside assistance service depends on your specific needs and preferences. Some popular options include AAA, Better World Club, and Allstate Motor Club.